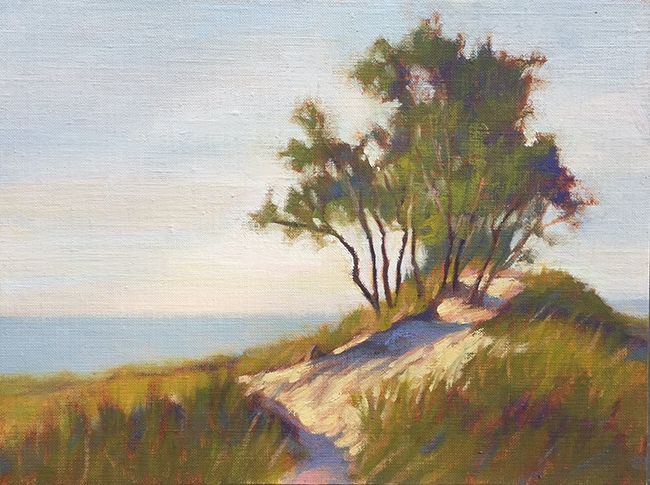 The Power of Place
The following post is from Preserved! artist Kathy Mohl. The post was originally posted at kathymohl.fineartstudioonline.com where you can see more of her work. Learn more about the Preserved! art program and purchase tickets to the Grand Rapids gallery opening here.
---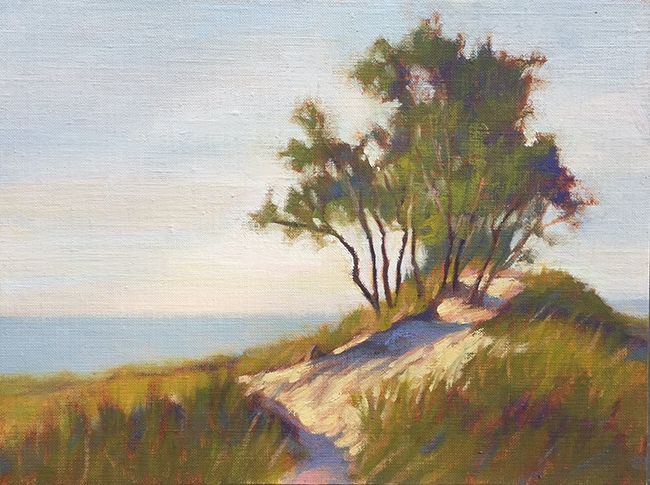 Can our surroundings boost our mood? A trip to the Saugatuck Dunes State Park proved to me that the answer is yes. My adventure started with a hike on an enchanting trail through the forest filled with majestic hardwoods, tangled roots and velvety moss fit for a fairy tale. My first glimpse of the sparkling water peeking through the trees took my breath away. As I stepped into the open I could almost feel my serotonin levels rise as I took a deep breath of the fresh lake air. The rolling dunes, sweeping vistas and beckoning beach are perfect playgrounds for the spirit and soul to fly.
This natural area is truly a gem of all of the Land Conservancy's projects and offers the essence of what we call Michigan. Providing rejuvenation for the mind, body and spirit, whether you're looking for an extreme cardio work out climbing the towering dunes, walking along the pristine beach with a friend or a peaceful meditation under the cottonwoods, this place has something for everyone.
As I was painting a passerby asked if he could view my work. He was returning to Grand Rapids from a business trip in Chicago and stopped by the lakeshore to "de-stress." We had a wonderful conversation about art, nature and life.  I was reminded how so many people are cut off from the natural world and how re-connecting with nature is essential in our lives. Studies have shown that we are highly sensitive to our surroundings and the quality of our environment has a strong effect on our emotions and behavior.  So many people are stressed out, over-worked, and immersed in technology. Hopefully by writing about this natural area I will inspire others to visit this spectacular place and discover it's healing powers.  Even if they aren't able to physically be here, I hope my artwork  provides a connection to nature for others by bringing it into their space. Art in the workplace or home has a direct impact on our well-being, it can reduce stress, increase productivity, improve communication and stimulate creative thinking.
I'm so thankful to be part of the Preserved! project with the Land Conservancy of West Michigan because I have found endless inspiration for my work. Protecting our natural land also protects our physical and mental well being.
---
Kathy's artwork along with the work of 12 other artists will be displayed and available for sale this fall. Tickets to our Grand Rapids Gallery Opening on November 1st are on sale now!