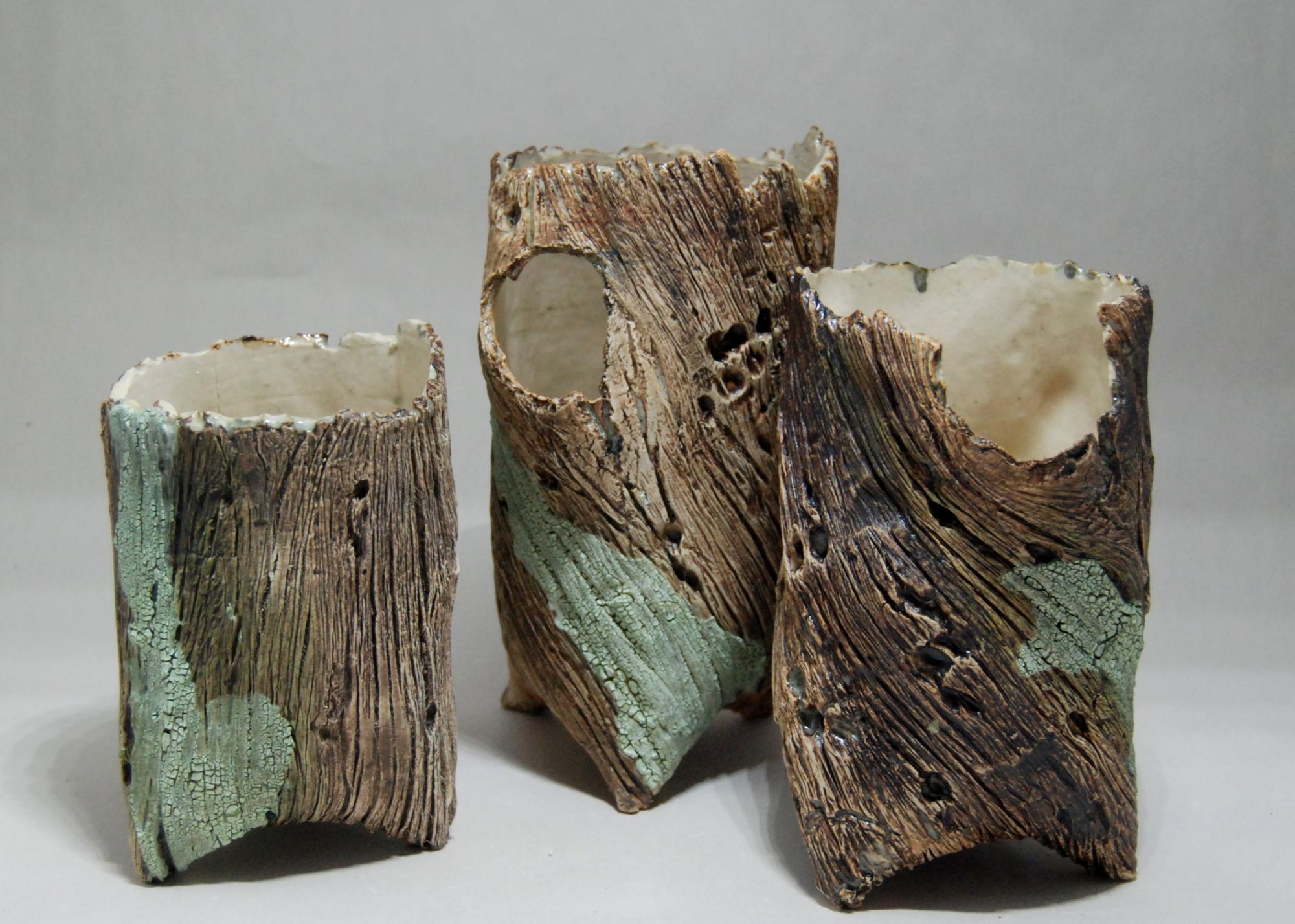 Sally Jenks explores natural textures in ceramic
PRESERVED! Artist Interview Series
Sally Jenks has carried an appreciation of nature with her from a young age. She grew up in a rural environment where the solace of nature was never too far out of reach. Now, Jenks resides in the middle of Grand Rapids, and she relishes opportunities to get a break from the noise and traffic of the city. 
"I grew up with an appreciation for having natural spaces—not just parks and stuff in the city, but wild, unmaintained spaces," Jenks said.
Jenks's creative drive is also something that has followed her throughout her life. When she was a child, she and her mom often made crafts together. In high school, Jenks fell in love with creating with clay. She attended workshops at the Grand Rapids UICA's community clay studio. She was compelled by the versatility of the material and enamored with working with it. But she never thought it'd become her vocation.
After completing a masters degree in museum studies in New York, Jenks returned to Michigan. She didn't yet have a full time job when she had the opportunity to buy her own kiln. 
"I thought, well, I'll do this until I find something else," Jenks said. "Six years later, I'm still doing this."
Jenks creates functional pieces like mugs and vases as well as sculptural pieces. She is intrigued by texture and explores its visual and tactile aspects, and how the two interact, in her works.
"I feel like the visual invites touch. I'm really interested in that," Jenks said.
Jenks is particularly drawn to the natural textures found in the forest—tree bark, lichens and mushrooms. Her pieces thoughtfully translate the tones and forms of nature into ceramic and glaze.
Jenks does not feel moved to create an exact replica of the specimens she finds, she said. Rather, she is interested in capturing the mood the twists and gnarls of bark communicate. She is also intrigued by the effect of shining a spotlight on these natural features which are often thought of as mundane.
"Im interested in how to communicate how really special and unique things that are overlooked can be—by taking something out of the environment and putting it somewhere where it's highlighted, like literally putting it on a pedestal or shining a light on it," Jenks said.
She said that's what Preserved! is all about: "inviting people to look at the amazing things all around us." She has participated in all three editions of the Preserved! program with the Land Conservancy. 
Working for Preserved! has brought her to nearby natural areas she had never explored before, she said. 
"It's like finding these hidden jewels. Especially the ones that are in or near busier areas—you just sort of find this little oasis, and it's really delightful," Jenks said.
Jenks described her experience at B.D. White Nature Preserve, a small parcel protected by the Land Conservancy and located in Lowell.
"There's road construction and busy roads, and then you are just in the woods, and it's quiet and really peaceful," she said. "Finding those little places feels really special."
---
You can see and purchase Sally Jenks's pieces inspired by Land Conservancy projects this fall at the Preserved! gallery receptions and exhibits. Learn more and register to attend the opening receptions here.