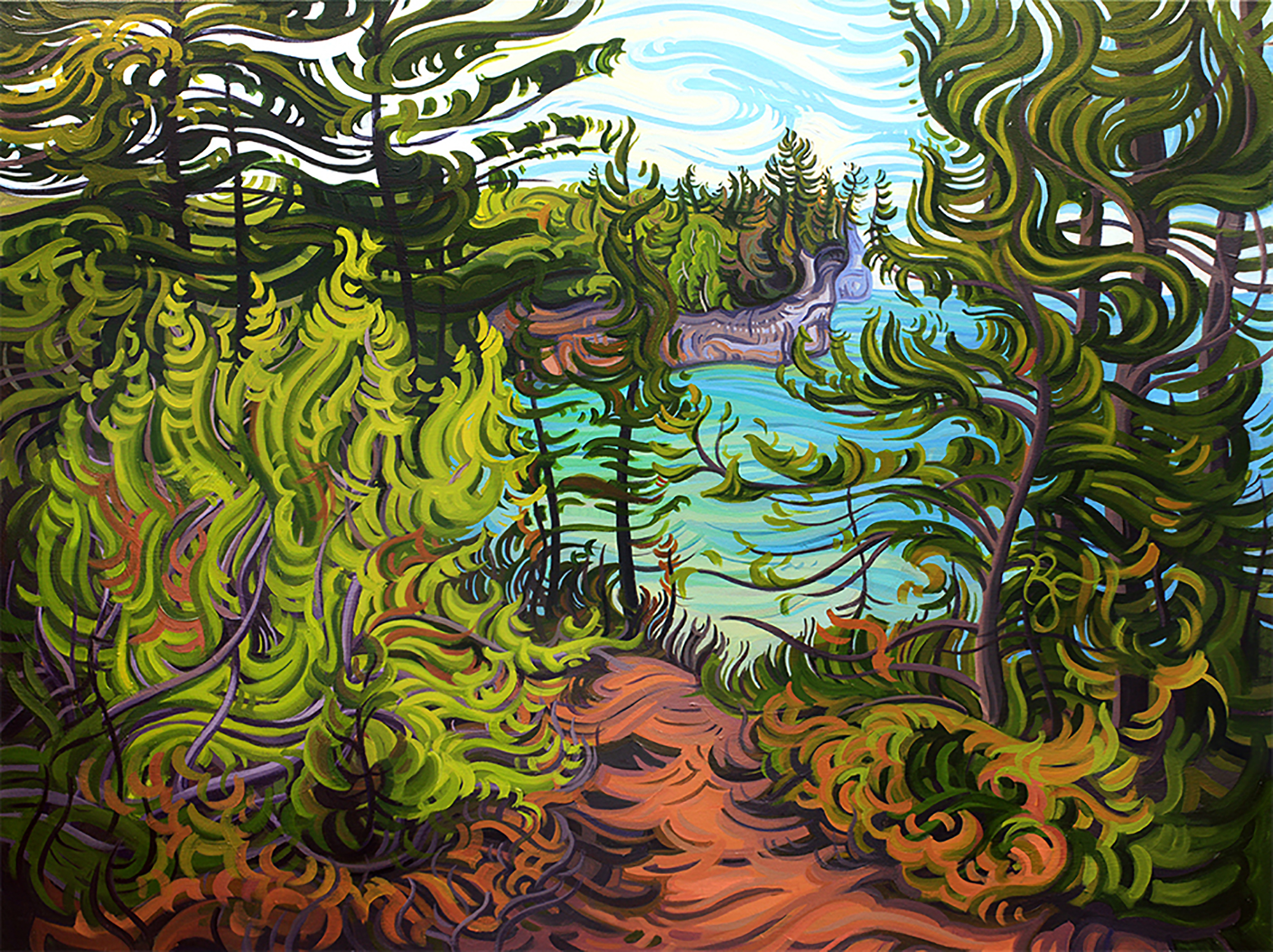 Randi Ford paints nature's spirit
PRESERVED! Artist Interview Series
Randi Ford's unique paintings feature wavy brush strokes and repeating patterns. The patterns add movement to an otherwise representational naturescape. They bring an underlying spirit to the surface, making a static scene come to life.
Ford calls her works "flow paintings," and she creates them by listening to rhythmic music while she paints.
"When I'm painting I kind of get lost in the music," Ford said. "It creates a lyrical, flowing sense, so that's why you see repetition in the pieces. There are a lot of lines, circular patterns and waves that kind of represent a vibration visually."
Ford started landscape painting after she graduated from Grand Valley State University with a B.F.A. in Illustration. Being around Lake Michigan while she attended college drew her attention to nature's beauty, which inspired her.
"I just had an urge to represent its beauty through my work," Ford said.
She experimented with painting her landscapes in open air, bringing along supplies and small canvases. But she found the practice limiting, so she began taking reference photos and creating her pieces in studio. Now, she travels around the country, exploring national parks and taking hundreds of photos.
"Usually I'll take a couple camping or backpacking trips in the summer and just immerse myself in nature," Ford said. "I'll take hundreds of pictures and capture different compositions of different wonderful sites."
Ford believes that it is important to draw attention to what nature contains, both its beauty and the benefits it provides.
"I know when I leave the city and the overwhelmingness of all the people and the concrete, being around plants and living things really makes me feel better and happier," Ford said. "I guess with my work, I'm trying to bring nature indoors and bring life to nature."
Ford sees her participation in Preserved! as a way to draw attention to the important work the Land Conservancy does to keep natural spaces around and to shine a spotlight on lesser-known natural areas that are open for everyone to explore.
"I wanted to do this because I think it's really important to have natural lands in our area and preserve them," Ford said. "It's a really good thing to have someone like the Land Conservancy taking care of our environment, and to bring awareness to people that these places exist."
You can see and purchase Ford's pieces inspired by Land Conservancy projects this fall at the Preserved! gallery receptions and exhibits. Learn more here.