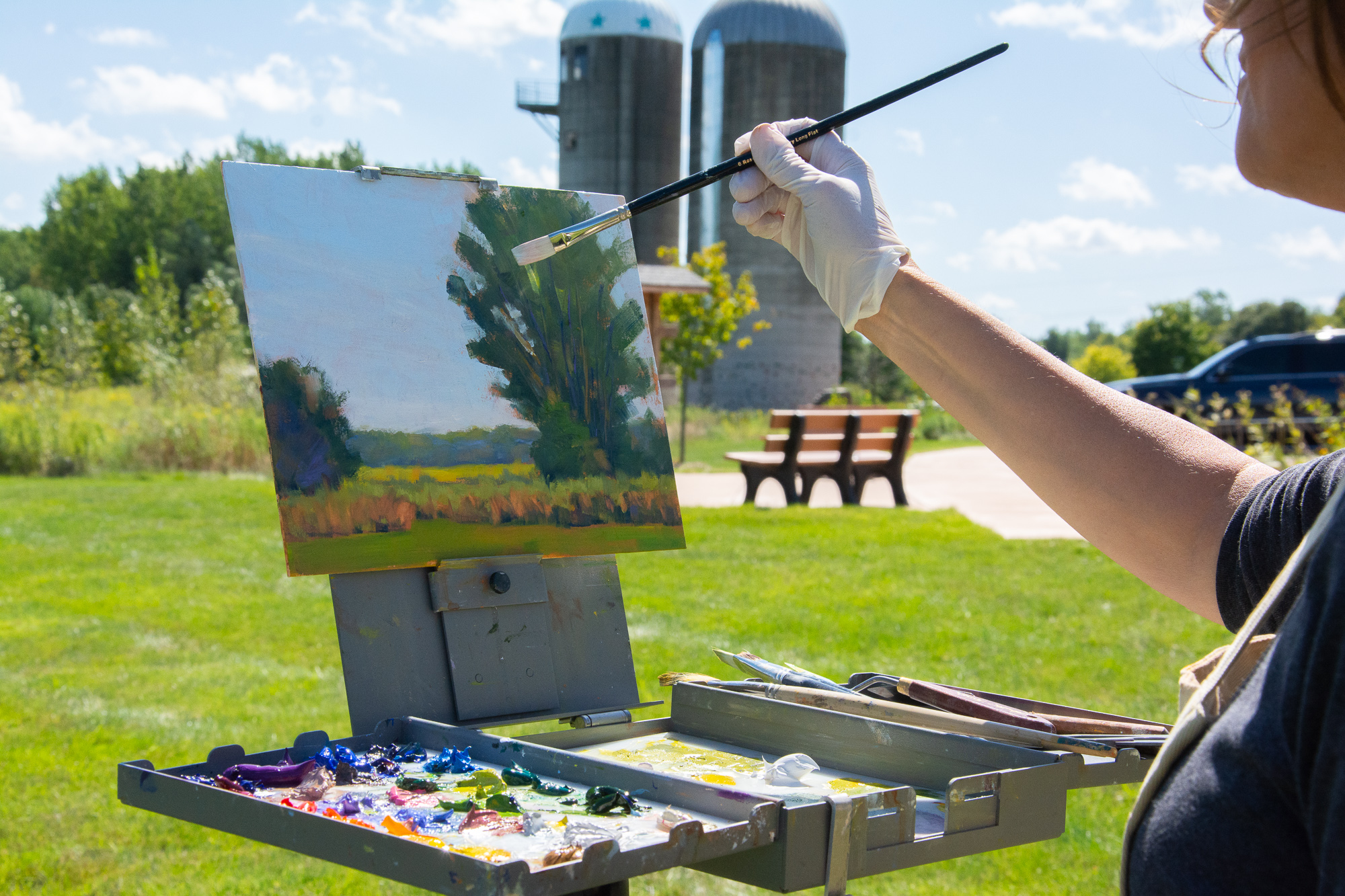 Kathy Mohl captures magic in the landscape
PRESERVED! Artist Interview Series
There is magic in the landscape. How it is experienced is individual to the beholder, but everyone can find it. Kathy Mohl is driven to translate the magic she sees through her painting.
Mohl has participated in all three editions of the Land Conservancy's Preserved! program, visiting a variety of protected natural areas and committing the magic she finds within them to canvas.
"What's really been cool about this experience with Preserved! is that I feel like I'm kind of working on an album," Mohl said. "I have a series, and it is really beneficial to artists to work in  a series."
She can see a common thread running through them, although articulating what that thread is can pose a challenge.
"I know it's about the light, but it's more than that," Mohl said. "There is something that I'm trying to reveal. It's just trying to listen and look for magic."
Mohl's objective in her artwork is twofold: to depict the unseen and to create in her paintings "a place for the soul to wander." She's drawn to depth in the landscape. She loves painting the dunes and lakeshore at Saugatuck Harbor Natural Area. 
But Mohl did not always paint landscapes. She grew up in Youngstown, Ohio. Artistically inclined from a young age, Mohl knew art would be her vocation. From childhood through adolescence, she drew and painted. When it came time to go to college, under the influence of her practical, Midwestern sensibilities, she chose to study graphic design and illustration. She took some fine art classes on the side and found an aptitude for charcoal life drawing. She later took a workshop in watercolor painting that made her realize something was missing.
"Graphic design and illustration was practical, and I began my career doing that. But I did miss just painting for me," Mohl said.
Still, it wasn't until she moved to Michigan that Mohl felt the power of the landscape.
"I just wanted to continue doing what I love, and I didn't know it would turn into landscape at that time, but the landscape here opened my eyes," Mohl said. "The way I saw it just blew me away."
She took a pastel course with landscape artist Jim Markle, and she's been painting landscapes ever since. 
"I was surprised at how much I loved the landscape," Mohl said. "That was pivotal. That was the beginning of a whole new world for me."
Mohl has since taught herself to paint in oil. Her paintings tread between realism and impressionism, creating a sense of depth while articulating the particular nuances in the way light interacts with the landscape.
Mohl likes painting en plein air for the time crunch it creates. 
"You don't have time to labor over everything," Mohl said. Plus, the same landscape will look entirely different over the course of a few hours. Mohl recounted creating two paintings at Roselle Park recently, a few hours apart. 
"It was really fascinating for me to see how intuitively I adjusted the color," Mohl said. "I didn't really think it. It's just so quick. But in that little bit of time, the paintings showed the color shift."
Mohl sees the connection between the wonder she finds in the landscape and the need to protect natural spaces. She said Preserved! is a unique and powerful way for her to contribute.
"I'm bringing the best that I can into helping these beautiful spaces," Mohl said. "This is the best way that I know how to do it. I hope it will really make a difference."
---
You can see and purchase Kathy Mohl's pieces inspired by Land Conservancy projects this fall at the Preserved! gallery receptions and exhibits. Learn more and register to attend the opening receptions here.