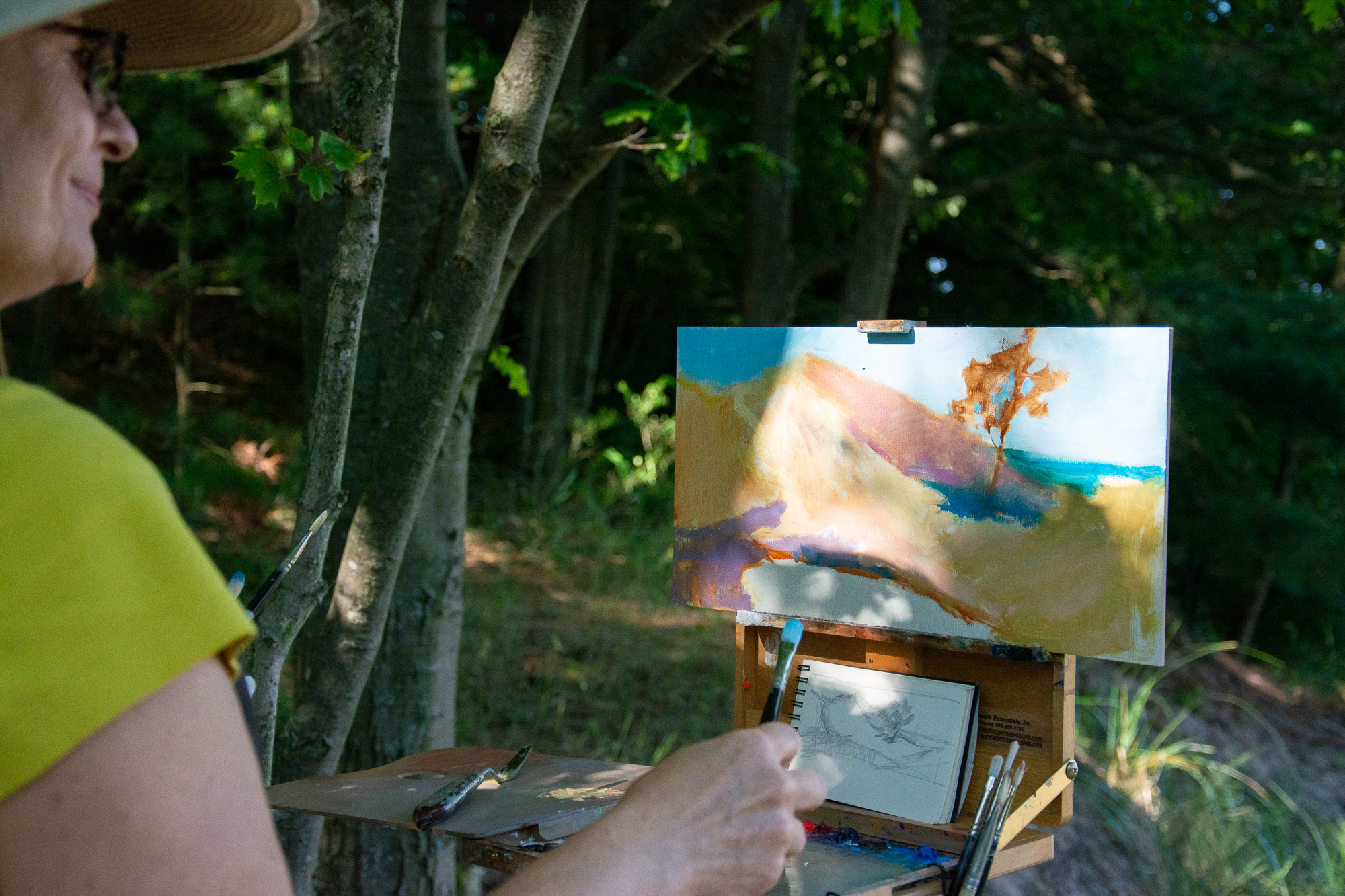 Kathleen Kalinowski hones her craft
PRESERVED! Artist Interview Series
For painter Kathleen Kalinowski, creating "en plein air" came naturally. She's been doing it since she was a young girl—before she even knew she was participating in a movement.
"I've been working outside for many, many years," Kalinowski said.
Growing up, she spent a lot of time outdoors. Her family would take her on camping trips in a pop-up camper all around Michigan and throughout the country. Her mother and grandmother gave her a love of gardening. As a girl, she found she preferred to keep to herself and so turned to art to occupy herself.
"When I was younger, I wasn't much of a socializer, so I did a lot of sketching," Kalinowski said.
She would sit outside and sketch while her peers played. After years of honing her craft, she can't imagine doing it any other way.
"I think that's really the only way to really see what nature has to offer," Kalinowski said. "I find it so exciting; it's hard to bring that excitement back into the studio."
Kalinowski still spends plenty of time creating in solitude, but she has found she also enjoys working in the presence of like-minded artists. She's participated in a handful of plein air groups that visit a landscape together. She said she enjoys learning from the ways other artists approach capturing nature.
"I'm always trying to paint better," Kalinowski said. These days, that has meant using fewer and more interesting brush strokes to communicate what she sees and feels in the landscape.
"I'm trying to pay more attention to the shapes, and I'm trying to put them down quicker so I can try to say more with less," she said.
Kalinowski's impressionistic paintings delicately capture the landscapes she visits. She designs them to be compositionally compelling while also attempting to capture her experience of the environment.
Kalinowski has participated in all three iterations of Preserved! and appreciates the role the program plays in raising awareness for the Land Conservancy.
"I think it's a good way to educate people about nature and the importance of having a land conservancy to preserve these properties," Kalinowski said. "It's kind of like doing a painting with a purpose." 
She hopes her artwork inspires people to visit the places she captures.
"Artists really help people to notice nature," Kalinowski said. "If other people were inspired to go (to the protected areas) because of the artwork they saw, I think that would be awesome."
You can see and purchase Kathleen Kalinowski's pieces inspired by Land Conservancy projects this fall at the Preserved! gallery receptions and exhibits. Learn more here.