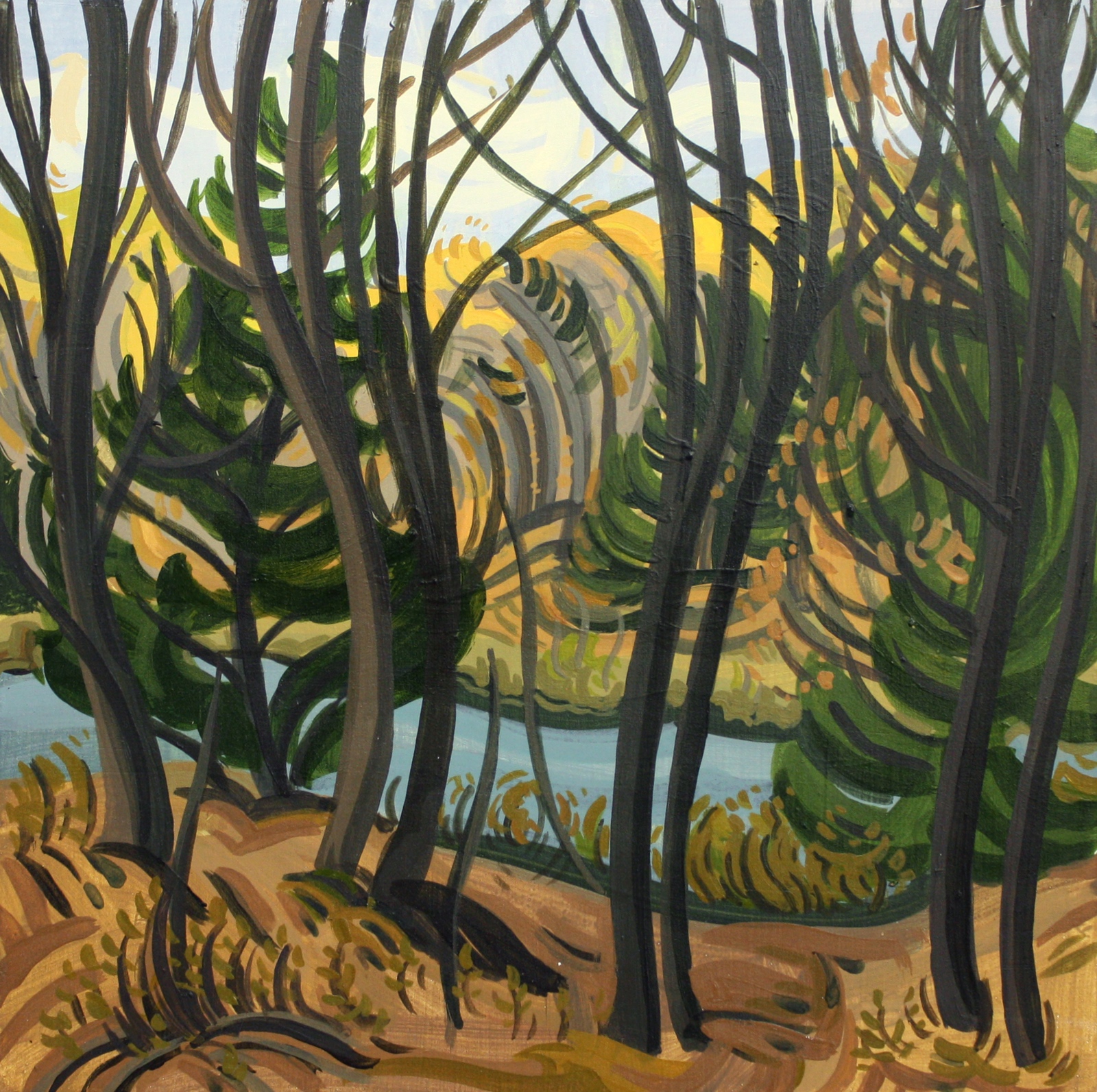 Interview with Randi Ford
PRESERVED! Artist Interview Series
Art was always nearby for Randi Ford. "Originally, when I was growing up, I was into the musical arts." she says. "My grandma was a painter, and my father was an architect and product designer, so I had some artistic background. But it wasn't until my junior year in high school that I started taking art classes."
As a Sturgis High School student, Randi's enjoyment of art classes and her love of the subject was encouraged by her teacher, Mrs. Baldwin, and her parents.
"My mom and dad have always been supportive of me," she says. "My mom is always encouraging me to do things."
Randi's enthusiasm for art shaped her study at Grand Valley State University, where she studied illustration. Today, she's known for her immersive landscapes, often depicting local Michigan shorelines and forests.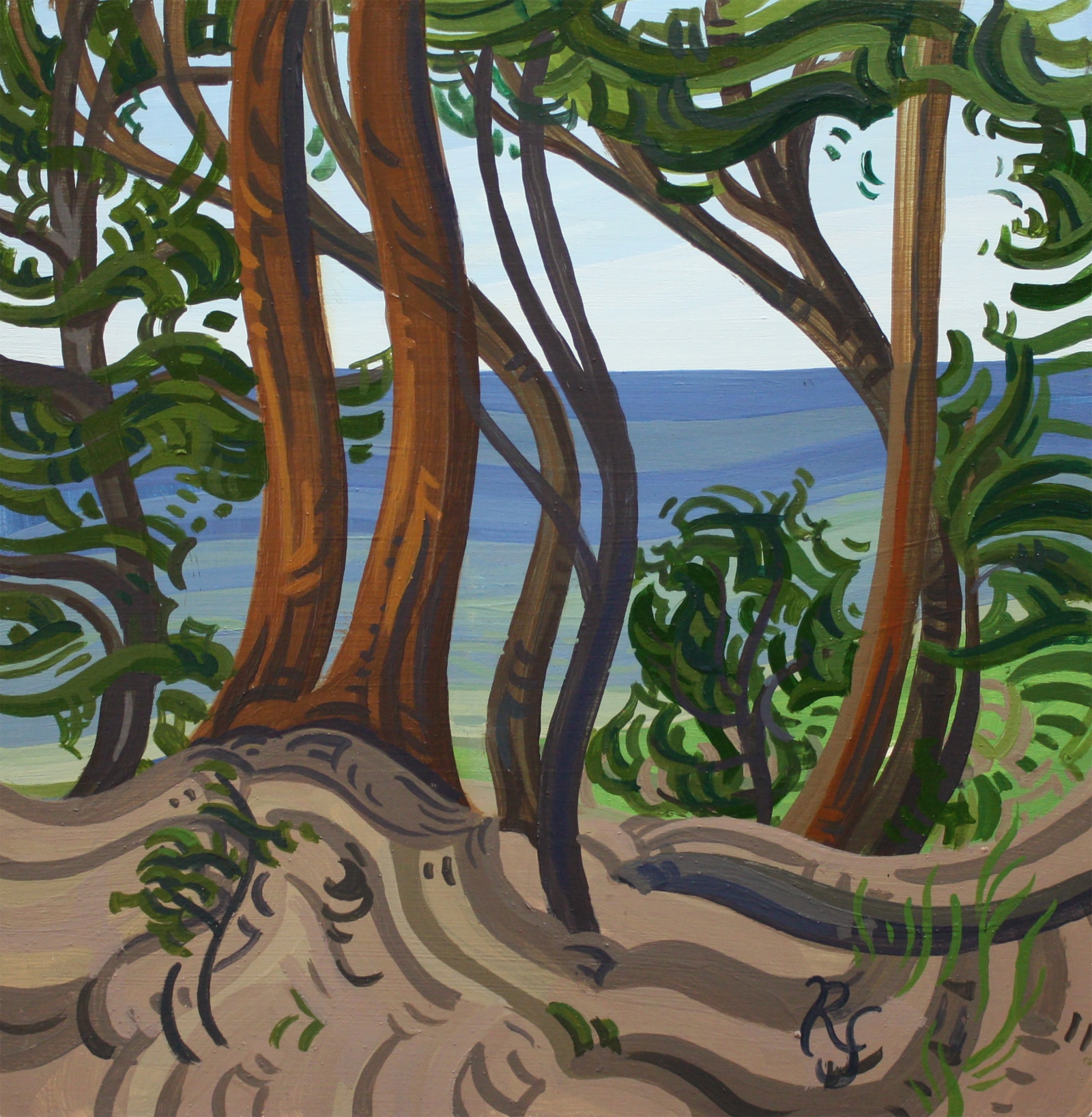 "It was strange, growing up in Sturgis," Randi admits. "It's not close to the beaches, so I didn't really have that connection. When I went to Grand Valley, I started appreciating the beaches and the shoreline, and that's what inspired me to start creating paintings. I've traveled up to pictured rocks in the U.P. now, and the Manistee National Forest, and it's all really beautiful. I really like how diverse it is here."
Because she prefers smoother strokes and texture in her paintings, she paints on birchwood panels instead of traditional canvases. She paints in either gouache or acrylic paint.
"Gouache is similar to watercolor, but it's a more opaque paint," she explains. "I used to paint with oil, but now I've chosen to use acrylic, because it dries faster. With my style of painting, I do a lot of layering and very distinctive lines and brush strokes in my pieces that are more graphic. Oil paint would just smoosh together where I don't want to do blending."
Randi's paintings are full of colorful swirls and waves, adding movement and vibrancy to the scene. For her, nature is the best subject to paint.
"I don't ever paint people, really," she says. "I want to capture the beauty within nature and the design and the color schemes within nature. And the spirit within nature, too."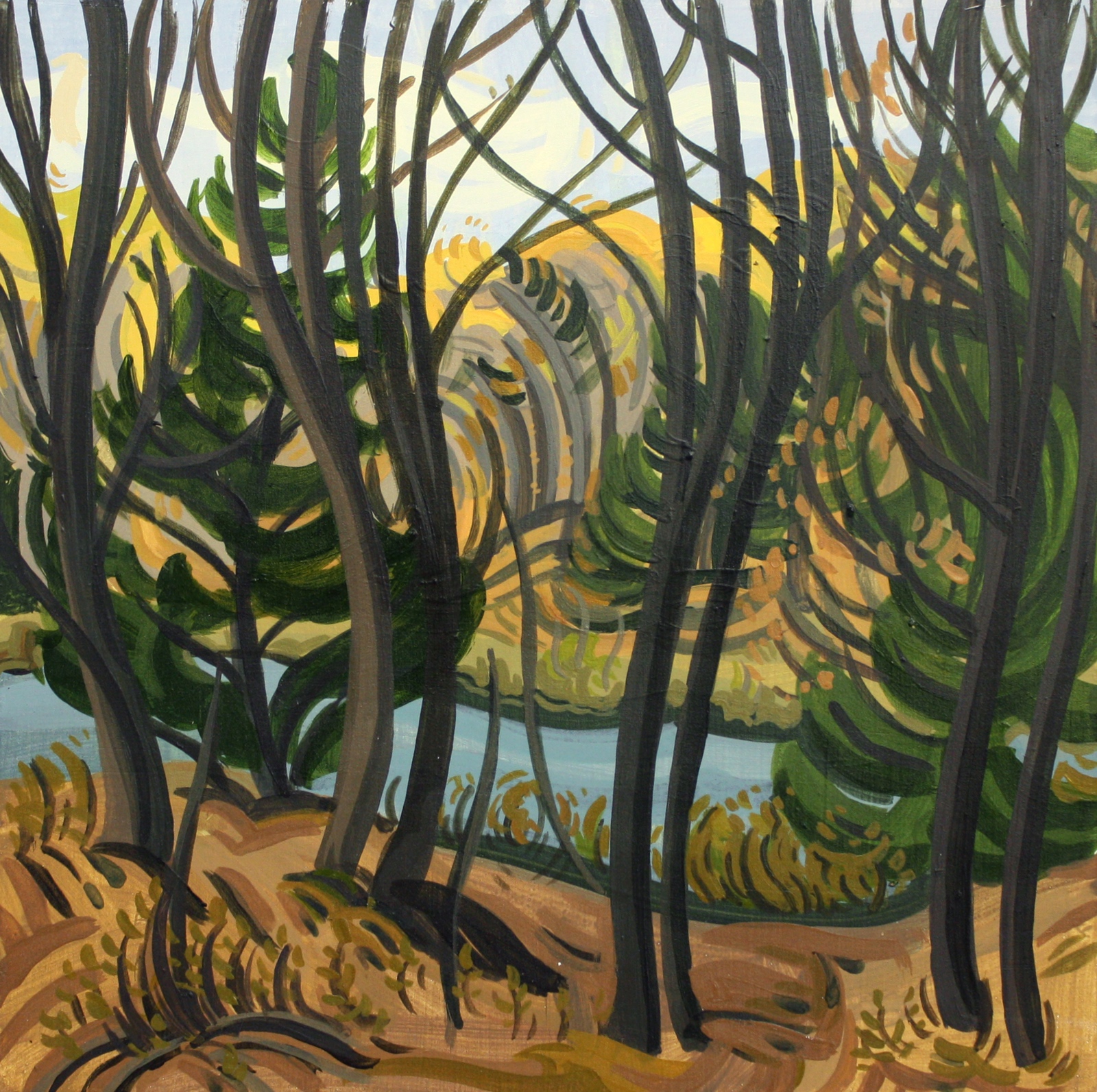 It's no surprise, with Randi's love of landscapes and painting, that she was strongly impacted by the work of the Canadian Seven.
"They were a group of seven artists who would paint in the 19th century," she says. "They were friends, and they would camp together out in Canada in the wilderness. They also had a studio together, and they would show their work at the Toronto art museum. They were doing similar things that I wanted to do with my work, so I think they're the main ones who've pushed me most in my direction."
Today, it's easy to look up other artists and their work, which Randi likes to do for additional inspiration. It has thus far helped her avoid artist's block.  
"I haven't been [blocked] yet, because I feel like I've continued to grow," she says. "I travel to different places to find inspirations for pieces. I guess if I ran out of inspiration, I would just travel to a new place."
Travelling and experiencing the outdoors has always been a part of Randi's life. She grew up in the country, and spent long hours meandering through her grandmother's 80 acre woods. Plein-air painting was a natural choice.
"It's very peaceful and meditative when I paint outside," Randi says. "You're taking in the environment and just thinking about what's happening there and not anything else going on."
Randi confesses she had never heard of the Land Conservancy, until she came to one of the previous Preserved! shows.
"I learned that a lot of the places that I go to—like the Saugatuck Dunes State Park—was one of the [Land Conservancy's] projects," she says. "It was really interesting to learn of other places as well that I didn't know about."
For Randi, Preserved! is a great event, not only because of the quality of the work, but also for how it benefits the local landscapes she values so highly.
"Art is an expression of human emotion," she says. "It's a way to communicate ideas and beliefs and thoughts. Through my paintings, I'm bringing to the attention of the viewers what exists in nature. I'm bringing it into the light, and I hope that people feel inspired or feel the beauty that is in nature. I want them to feel the awe that nature brings when you're out in it."
---
Learn more about the Preserved! program and read other artist interviews here.