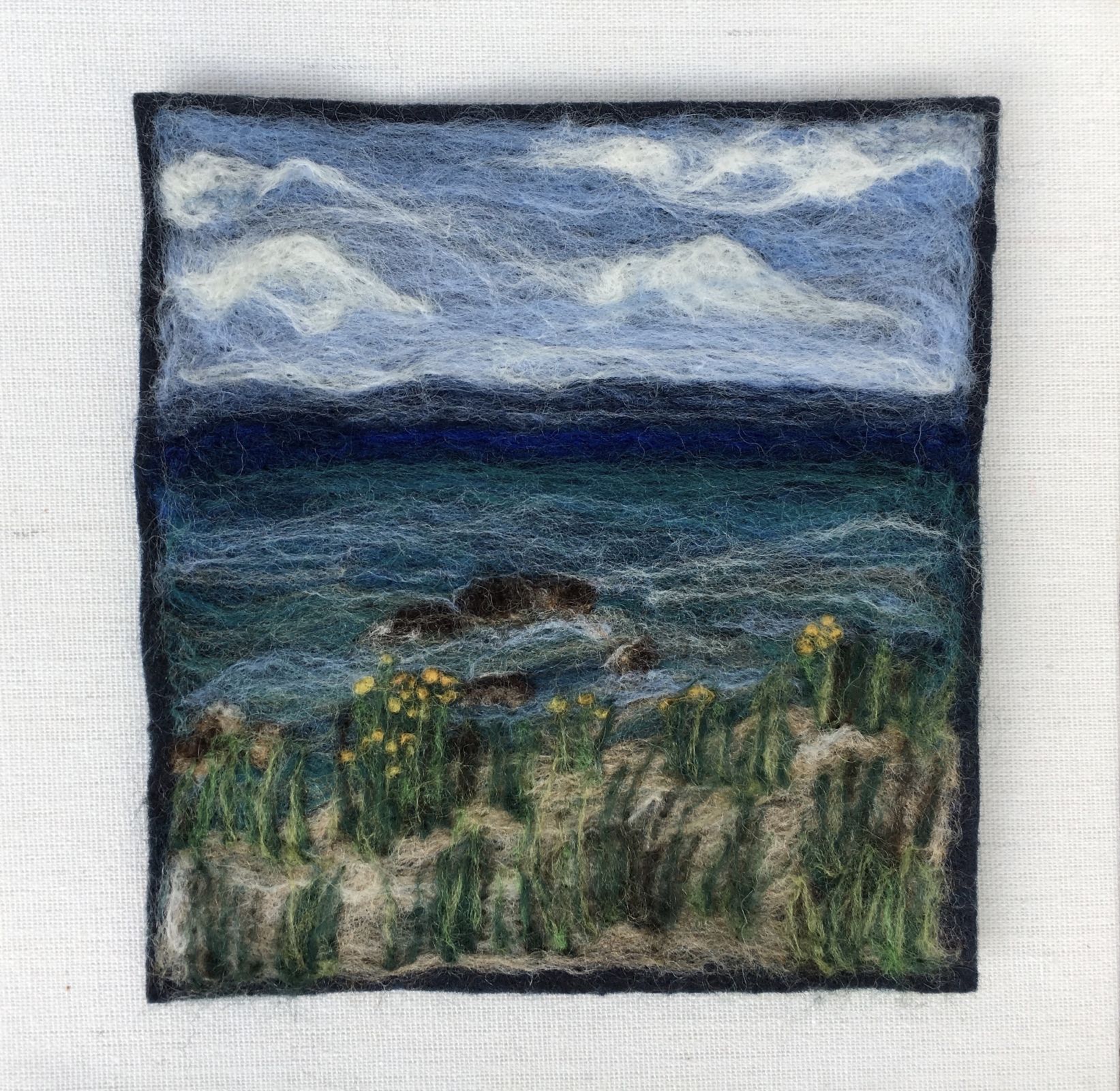 Eleanor Iorio renders landscapes in fiber
PRESERVED! Artist Interview Series
Eleanor Iorio is this year's Preserved! Youth Ambassador. She has grown up surrounded by art, and at 17 years old, she has spent much of her life experimenting in different mediums. Her focus is needle-felted fiber landscapes.
Iorio learned the art of needle felting from a neighbor, who taught her to use the technique to create three-dimensional ornaments. In middle school, she attended Blue Lake Fine Arts Camp where she was introduced to two-dimensional needle felting, and she has kept her focus on perfecting that art ever since. She's excited by the growth she has seen in her own work.
"It's cool to see how I've changed with detailing and different aspects of layering the fibers," Iorio said.
Land- and waterscapes are Iorio's specialty. She is inspired by nature and the feeling of tranquility she finds within it. 
"It's always so freeing for me to be out in nature," Iorio said. "I love camping, hiking and the state parks."
Iorio also has a personal connection to the power of land protection. Her family owns a cottage in the Traverse City area, which happens to be adjacent to a parcel that was recently protected by the Grand Traverse Regional Land Conservancy. 
"That was super impactful for me, because I grew up hiking and exploring up there with my cousins and siblings," Iorio said. "For that to be saved was so important for me."
She hopes to communicate the passion she feels about nature into her artwork, so that others might be inspired to make the same connection.
The unique process of needle felting is particularly effective for capturing this sentiment, Iorio said.
"It has such loose and flowing qualities inherent in the medium," Iorio said. "It fits so well with nature and allows me to express my passion for nature and show my viewers the freedom that nature gives me."
Iorio's pieces gracefully distill the landscapes that inspire her. She captures light and mood in her color choices. While much of the final product is shaped by Iorio's vision, she lets the material inform it as well.
"I manipulate the medium myself with my needle as I poke it into the felt, and I manipulate how I layer the colors, but it still has a mind of its own and shows different layers and aspects of the subject," Iorio said. "It has a soft quality. There aren't any harsh edges. It's very warm and draws you in. It's a softer visual of what I'm seeing out in the open."
Iorio said she's excited to participate in Preserved! because it reflects what she hopes to achieve with her artwork.
"I like how Preserved! brings artists and the community together. It fits so well with my own reasoning for doing my art," Iorio said. "I want people to know the importance of nature, and I want people to become familiar with nature by looking at a piece of art and feeling a connection to it," Iorio said.
---
You can see and purchase Eleanor Iorio's pieces inspired by Land Conservancy projects this fall at the Preserved! gallery receptions and exhibits. Learn more and register to attend the opening receptions here.