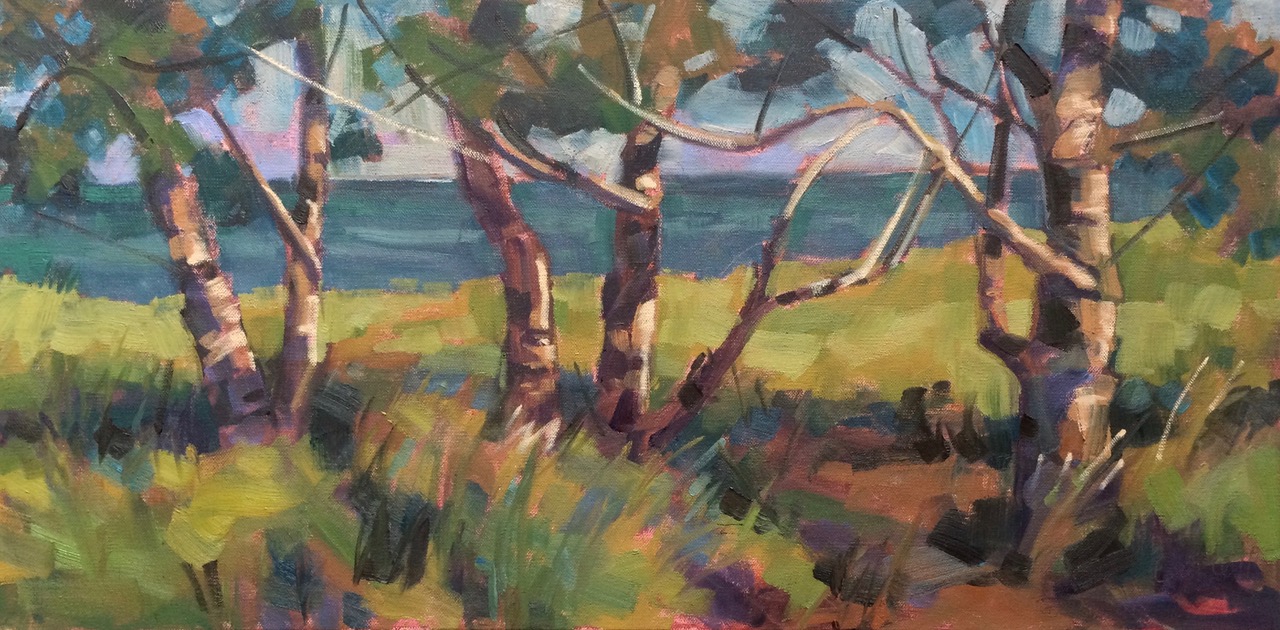 Anne Corlett's paintings inspire awe
PRESERVED! Artist Interview Series
Artist Anne Corlett is a descendant of the storied art community of Saugatuck, Michigan. Twice a year, Corlett's grandmother, a landscape painter, invited her artist friends from Chicago to spend the week painting on the scenic Lake Michigan lakeshore at her family's summer cottage. Her grandmother's guests would give her a book filled with the works they created there as a gift.
"Our summer cottage had an unbelievable supply of beautiful art books that I grew up looking at, not to mention her paintings, which tended to be landscapes," Corlett said.
These works had a great influence on Corlett's own artistic sensibilities. Growing up among Michigan's forests, dunes and beaches played a role as well.
"One of the reasons I paint is to express that passion I feel about the great outdoors," Corlett said.
Corlett prefers to create "en plein air," amidst the landscapes she is committing to canvas. Being outside while she works is energizing, she said, but it is also critical to achieving what she wants to communicate in her paintings.
"I'm not just painting a scene, I'm painting how I feel while I'm out there," Corlett said. "At the risk of sounding corny, I feel like the wind, the sun, the sounds around me and the smells around me all filter through me onto the painting."
Corlett's pieces often feature vibrant blue skies with sculptural clouds. Her translations of the landscape capture nuances in light and color and turn them up, drawing attention to the magical ways the two interact in nature.
Corlett hopes her paintings inspire veneration for the natural world.
"By capturing a giant sky or a beautiful landscape, my hope is that we as people can put ourselves in perspective and understand that we're just a small part of something much bigger, and therefore respect everything around us—from a little dragonfly, or even a little ant, to a giant redwood tree or a mountain range," Corlett said. "I think we should be in awe of everything."
Corlett recognizes that respect in the work of the Land Conservancy. 
"The Land Conservancy is showing that respect by saving land one piece at a time, and as teeny little human beings that's really all we can do," Corlett said.
The Preserved! program allows Corlett to channel her love for painting into something that means more, she said.
"I paint because I love to paint—I love color, it's like a way to communicate without words and it makes me feel good about myself," Corlett said. "For me to be able to paint land that has been protected means that it's not just a beautiful landscape, which is good enough on its own, but it's also a landscape that people had to work hard to retain."
Doing this kind of work—creating art to shine a spotlight on the inimitable beauty found in nature and the importance of protecting it—places Corlett and the rest of the Preserved! artists in an important legacy. 
"Throughout the history of art, artists have gathered together to paint the landscape in order to celebrate it—I think about the Hudson River Valley group and the Group of Seven in Canada. These are all painters that I respect so much because part of their mission was to record the beauty of wild, raw nature," Corlett said. "It's very exciting to think of myself as part of that long line from the past going into the future—hopefully—of artists that paint because they want to celebrate untouched nature."
You can see and purchase Anne Corlett's pieces inspired by Land Conservancy projects this fall at the Preserved! gallery receptions and exhibits. Learn more here.