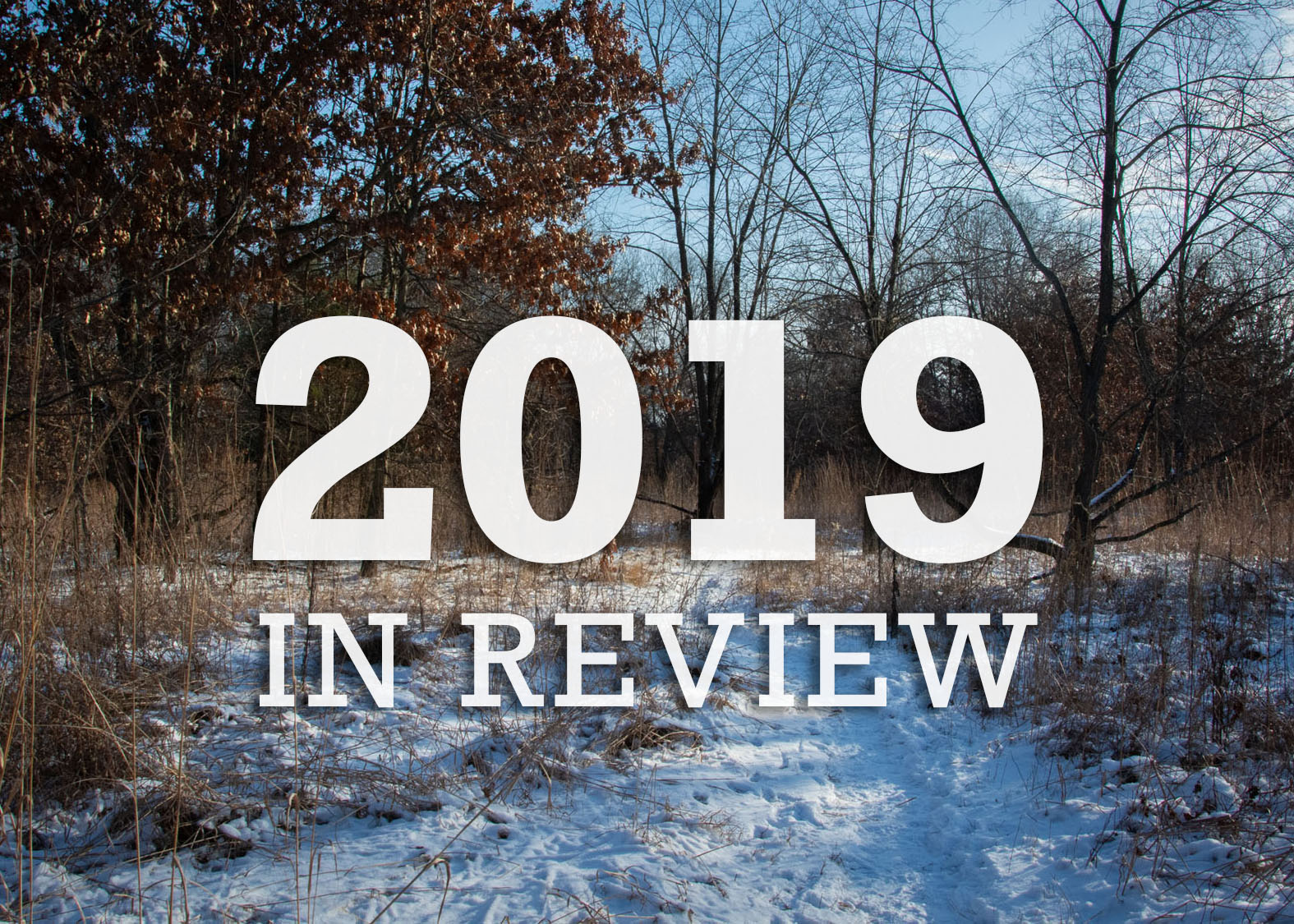 A look back on 2019
With the help of our supporters and volunteers, 2019 was a great year at the Land Conservancy of West Michigan. As we embark on the new year, we want to reflect on last year's achievements. Join us in looking back on what we have accomplished together!
Land Protection
3 Conservation easements
Three families worked with us in 2019 to establish conservation easements on their properties in Lake, Kent and Ottawa Counties. Together, they protected 67 acres of West Michigan natural habitat—a biodiverse collection of woodlands and wetlands in the Little Pigeon Creek, Rogue River and Pere Marquette River watersheds. We're grateful to these families who saw the value of protecting their land and worked with us to make sure these beautiful parcels and the habitat they contain is preserved forever.
2 Community partnership projects
Community members gather to celebrate the completion of the Phase One campaign for The Highlands. Photo by M-Buck Studio.
This June, we invited the community to join us in celebrating the completion of the Phase One campaign for The Highlands, our collaboration with Blandford Nature Center. Together with the Grand Rapids community, we raised over $5 million to fund the acquisition and stewardship of the 121 acre property. Now, both organizations are setting sights on the long-term restoration projects that will transform this former golf course into a wild natural area, right in the City of Grand Rapids.
In October, we celebrated the successful completion of our partnership with Ottawa County Parks to protect Ottawa Sands—a pristine coastal gem just north of Grand Haven. The Land Conservancy transferred the portion we held to Ottawa County Parks in July, completing their acquisition of the 345 acre property. Ottawa County Parks is now working with the local community to create a master plan to develop the property into a park where people can enjoy fishing on the crystal blue 80-acre lake, hiking along the scenic trails and watching for migratory birds and waterfowl.
Stewardship
New wetlands and prairie at The Highlands
Over the last two years, we have watched the wetland we installed at The Highlands in 2017 come to life as native grasses and beautiful wildflowers grew in, creating a home for turtles, frogs and a pair of green herons. This year, we again partnered with the U.S. Fish and Wildlife Service to add 6 more wetlands throughout the property, which have already begun to attract wildlife. This summer, volunteers joined us to plant native plants in and around the new wetlands, which will transform into vibrant habitat in summer 2020. In addition to functioning as magnets of biodiversity, these new wetlands will capture rainfall and reduce stormwater pollution.
This past summer, we prepared previously manicured fairways on the northern edge of The Highlands to be planted with prairie grasses and wildflowers. This winter, we enlisted more than 50 volunteers to seed 25 acres of native prairie grasses and wildflowers. Next summer, this rolling landscape will be a tapestry of greens, yellows, purples and blues as the grasses grow tall and the wildflowers bloom. 
Growth and recovery at 2 nature preserves
In 2017 and 2018, we completed two major forestry projects at Brower Lake Nature Preserve and Wege Foundation Natural Area to begin the restoration of 30 acres of oak savanna and oak woodland habitat. Removing trees at these preserves was a necessary step toward ensuring the health of the woodlands. At Brower Lake, we removed non-native pines to make room for the preserve's native oak woodland ecosystem to flourish. At Wege Foundation Natural Area, we used forest restoration techniques to create openings and alleviate competition-related stress in the oak woodlands and removed 25 trees that had been afflicted by oak wilt to prevent the spread of the fatal disease. 
We seeded the open areas left behind on both preserves with native grasses and wildflowers to create more savanna-like conditions. This year, we saw these plants emerge along with newly sprouting oaks, filling in the bare areas with greenery. It's a heartening sign of recovery for both of these preserves.
Conservation easement stewardship
This year, we committed to an enhanced focus on supporting the conservation easement landowners with whom we collaborate to protect private land. We hired our first-ever Conservation Easement Stewardship Specialist, Nick Sanchez, in May. Nick collaborates with conservation easement landowners to monitor and help them connect with resources to actively manage their land, ensuring the continued quality of the habitat their conservation easements protect.
Supporters & Volunteers
We are so grateful for those who have given to the Land Conservancy over the last four decades to support the work we do. Together, we have protected over 150 properties and nearly 12,000 acres of natural land in West Michigan, providing critical habitat for our region's plants and wildlife. We could not do it without a community that values keeping nature around for future generations. In 2019, nearly 170 volunteers lent a hand in stewardship and office activities, putting in over 1,000 volunteer hours. We also added 185 new supporters to our team. 
Thank you for joining us, and for keeping nature nearby and protected forever here in West Michigan. In 2020, we hope you'll make some time to enjoy the beautiful natural spaces in our backyard. 
---