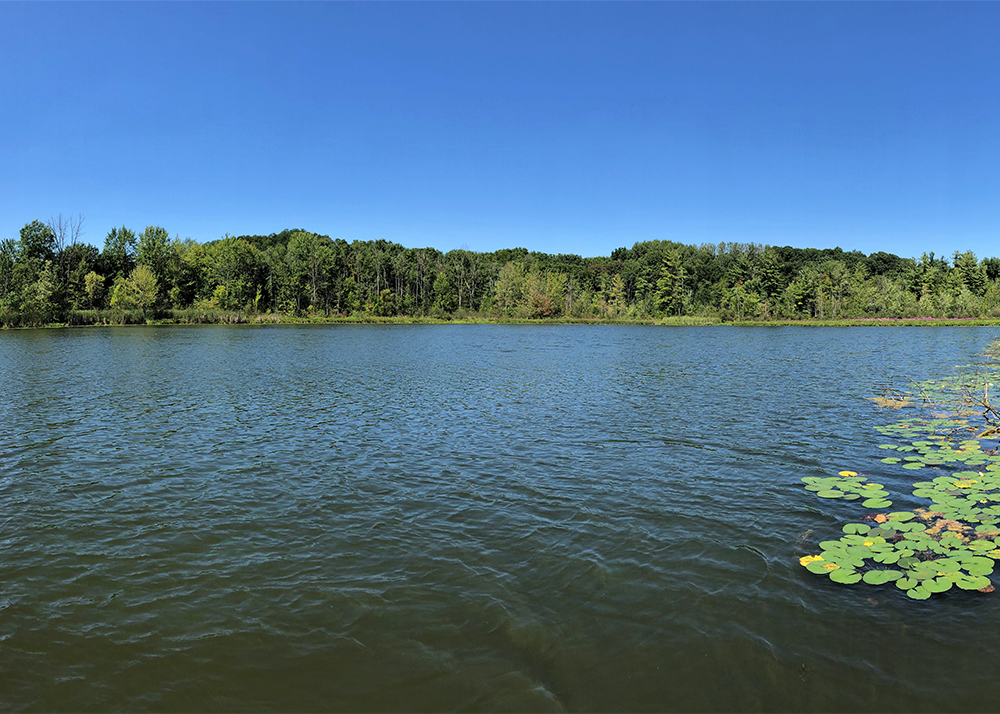 The Cok Family legacy: A protected respite on the shores of the Rogue River
In the latest chapter of a sprawling history on the land, Stu Cok and his family amended their conservation easement to protect an additional 63 acres of Kent County natural land in December 2020. The Coks have protected a total of 187 acres of healthy natural land, streams and lakes that feed the Rogue River, creating an enduring legacy of conservation for their family.
The amendment was completed with the help of a grant from Trout Unlimited, which aimed to protect the water quality of the Rogue River. Combined with the original protected land, this new addition does that in spades. The protected wetlands and lakes promise to be a source of clean water for the Rogue River watershed forever.
The protection of this additional acreage underscores the family's longstanding commitment to a landscape that has been a part of their story for 66 years.
Origins
In 1954, Stu Cok was in college after serving in the Marines. He was itching to buy his own piece of land. He had grown up working on his grandfather's muck farm in northeast Ohio in a tiny town called Celeryville, and he thought he might try starting his own muck farm, if he could find a parcel within 15 miles of Grand Rapids.
Stu didn't have much money at the time, but when a realtor showed him a property in Algoma Township with promising features, he knew he had to act. He needed to come up with a $200 down payment.
"I didn't have $200, but I really wanted to tie this thing up," Stu said. "I am an impetuous guy, and I wanted to get the deal done."
So, Stu enlisted the help of his brother, a newlywed at the time, and was met with some reluctance.
"He didn't even want to look at it with me, but I talked him into it," Stu said.
Even after seeing the land, his brother remained skeptical. Ultimately, Stu convinced him of the property's value by betting on the depth of one of its lakes. If it was over ten feet deep, Stu would ask his brother to cover half of the down payment. If not, they would walk away. To his luck, they measured its depth to be 14 feet.
Growing Up
Though the property had promise as a muck farm, that would not be its eventual fate. Stu took a job in the trucking industry that kept him away from the land. Stu paid his brother back, and as the years passed, the land became a playground for Stu and his wife Nancy's growing family. The kids played in mud puddles and completed impressive school projects—one of which involved identifying a bird rarely seen in the region. Nancy and the kids would have picnics with the neighbors on a hill on the property that they named "Picnic Hill."
For his part, Stu took up an interest in tree farming.
"I was planting trees shortly after we bought the property. I guess it was instinctive. If there was a piece of open ground, I wanted to grow something on it," Stu said.
Stu joined a variety of organizations to further engage with the hobby, including the Michigan Forest Association, American Tree Farm System and the Walnut Council.
Stu and his family take pride in sustainably harvesting the trees on their property to support the health of its wetlands, lakes and the nearby Rogue River. He also cherishes the friendships he made as a member of the groups.
Making Connections
Over the years, the family purchased the surrounding properties as they went up for sale. Today, the Cok Family Tree Farm is made up of nine separate land purchases.
"People ask, 'How'd you ever do that?' and I say, 'Well, there's luck and there's skill. I was lucky,'" Stu said. "I really was—and patient."
In 2010, the family established the first conservation easement to protect the landscape and ensure it would never be subdivided and developed. Stu said this was important to his children, who grew up on the land and shared a special connection to it. The children worked alongside their parents to determine their roles in the legacy of the property. Stu knows this process can be challenging for families. To his relief, everyone works together amicably.
"It's wonderful how they all get along. I've never seen anything like it," Stu said.
A Refuge for Past, Present and Future
One of the Coks' children lives in a home on the East side of the property. When Nancy was diagnosed with cancer, the family built a screen house for her on the shore of a lake, halfway between the homes. It was a place she could walk to and spend time with her grandchildren in the comfort of the shade. Nancy passed away in 2013. Stu remembers her love for the outdoors, birds and plants. 
Stu still actively participates in the stewardship of his property. He plants trees every year.
"I love it out there," Stu said. "It's my respite."
Thanks to the family's commitment, it will remain a respite for generations to come.