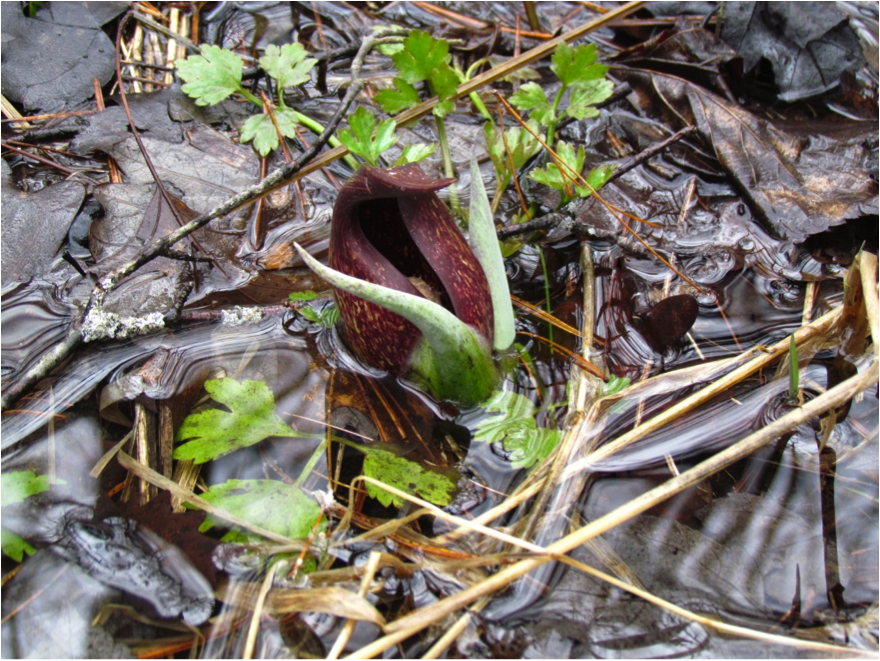 Skunk Cabbage
Early Emergent
Recently I was on the banks of the Pere Marquette River and noticed a familiar plant crawling from the earth – skunk cabbage. It's one of the early risers from the banks of rivers and wetlands in West Michigan and beyond. The plant actually creates its own heat allowing it to beat many plants out of the ground as early as February. It flowers in early to mid-spring thus getting early insects to pollinate. As its name suggests, there can be foul odor associated with the plant as well – and another reason why early insects find their way to the plant. By late spring, the plant is completed flowering and large leaves unfurl and can carpet a wet-woods floor.

Stranger than fiction
Seeing the skunk cabbage emerging last week, it struck me how many things in the natural world seem like they fit better into a Dr. Seuss book than our world: Sandhill cranes and their pre-historic, rolling calls. Redbud trees bursting into bright pink in the spring forest of browns and greys. Great Lakes sand dunes. Eastern Box Turtles and their ability to completely, well, box themselves up in their carapace.
It reminds me to not forget how outstanding the natural world can be. And this isn't confined to the woods either. Take a look at some of the outstanding, peculiar heirloom tomatoes that are available. Don't forget to be surprised outside, and I'll try to do the same.