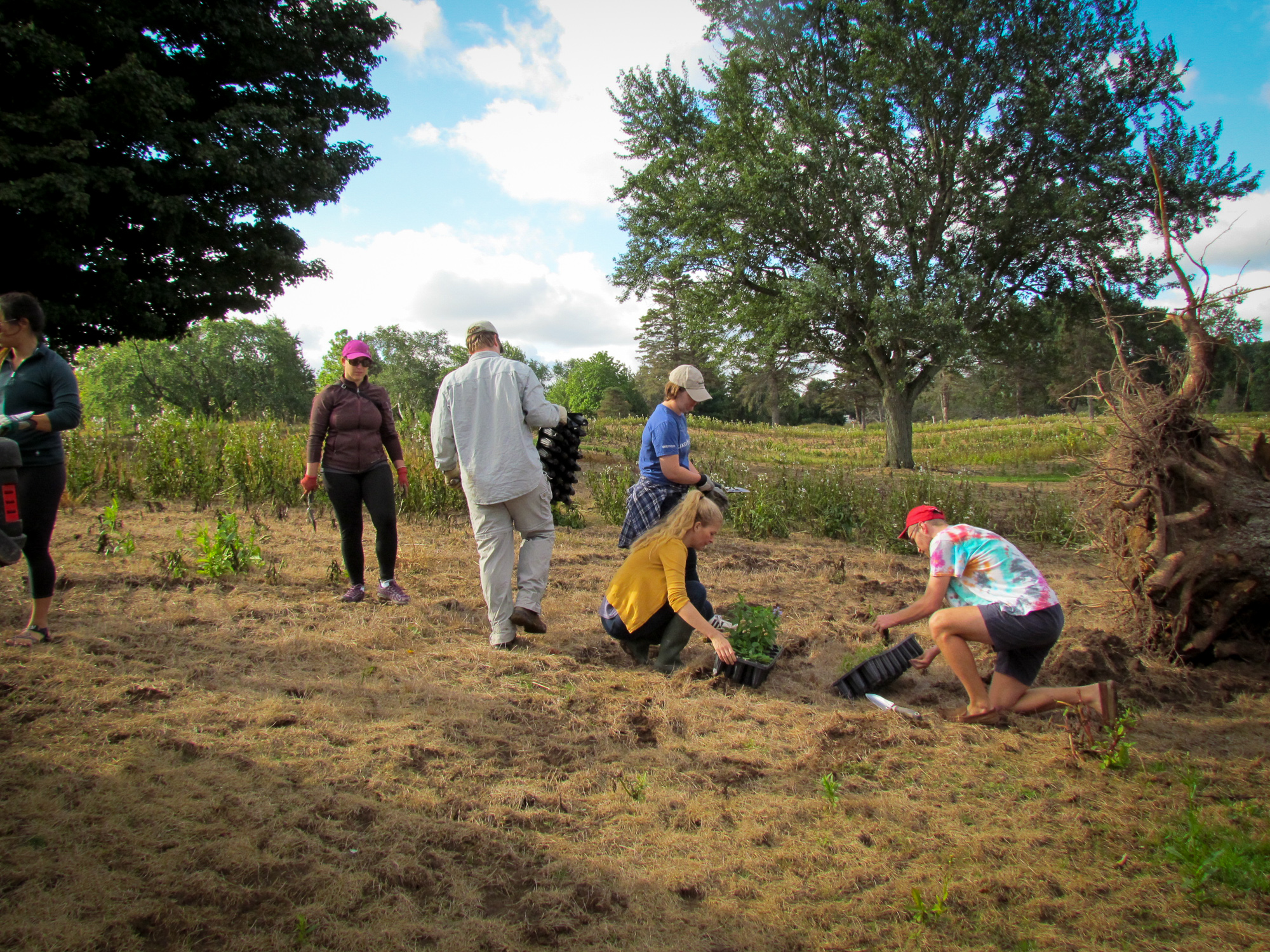 Progress at The Highlands
Over the last three weeks, much has changed at The Highlands. Here's a quick look at what's been going on.
Demolishing the Clubhouse
Where once stood a sprawling building, now sits a pile of rubble. To tear down a building of this size takes a great deal of time, but the view at The Highlands is already opening up.
Installing New Wetlands
The U.S. Fish and Wildlife Service has completed its work excavating the new wetlands at The Highlands, and they are already beginning to fill with water. These wetlands were created by digging depressions in a few key locations and removing the drains and tiles that were installed to divert water when The Highlands was a golf course. Because the soil at The Highlands contains a lot of clay, the depressions will collect rainwater and snowmelt, slowing its drainage into neighboring waterways that connect to the Grand River. These new wetlands will support better water quality and reduce erosion caused by heavy rainfall. They will also become magnets for biodiversity—supporting a variety of plants, birds, insects, reptiles, amphibians and more.
Planting Native Plants
Over this last weekend, several volunteers joined us at The Highlands to plant native plants and seeds in the areas around the new wetlands. This work will help transform the presently bare earth into a vibrant, healthy habitat for native birds, insects and wildlife. This time next year, we hope these new wetlands will look like the wetland near where the clubhouse formerly stood—full of life and color. 
Installing Bird Boxes
Volunteers also helped us install bird boxes over the weekend to provide safe homes for bluebirds. These bird boxes, designed to attract bluebirds, will invite yet more biodiversity to The Highlands.
What's on the Horizon
You may be wondering: what's next for The Highlands? Simply watching these new restored spaces develop and grow over time promises to be quite a show, but there are yet more restoration projects in store. Next, we'll be planting seeds to establish 25 more acres of native prairie—and we need your help! Please join us for the December Second Saturday Workday at The Highlands and play your part in the transformation of this property.
We'll continue the process of transforming overgrown turfgrass into natural habitat over the coming months and years. We'll also be working with Blandford Nature Center to plan and construct a pavilion, a natural playscape and accessible trails that allow people of all ages and abilities to appreciate nature in the city.
---
The Highlands is a collaborative project between the Land Conservancy of West Michigan and Blandford Nature Center.