No trails, no problem.
Exploring the Harters' peaceful creekside getaway—protected by a conservation easement.
Susi Harter prefers to walk off the beaten path.
"It's a very refueling kind of feeling to go out in the woods and just wander around and not have a plan," she said.
That is why she decided not to put trails on the Baldwin property she and her husband Andy purchased in early 2019.
"I don't want to have a plan when I go into the woods," she said. "I just want to wander, and wherever there's a sunbeam I'll go, and wherever there's a little opening, a clearing, I'll just walk through there."
Susi said the practice is calming and gives her an opportunity to separate herself from the complications of modern life.
"I leave the world behind me when I step into the forest," she said.
Susi and Andy's permanent residence is in Rockford on a wooded 20-acre property. The couple discovered the Baldwin area when their neighbors invited them to visit their cabin. The Harters came to admire the area's quiet and natural character and decided to try to find a property to call their own.
"We were looking at first for a small piece of land with maybe a crick going through it, just five acres—something small," Susi said.
The same neighbors encouraged the Harters to look at a 65-acre property that was protected by a conservation easement, and Susi and Andy quickly fell in love with it. Peaceful Bray Creek runs through the heart of the property, which hosts a variety of trout and salmon. Towering white pine, jack pine and oak populate the surrounding forest. Birds and wildlife abound in this scenic wilderness.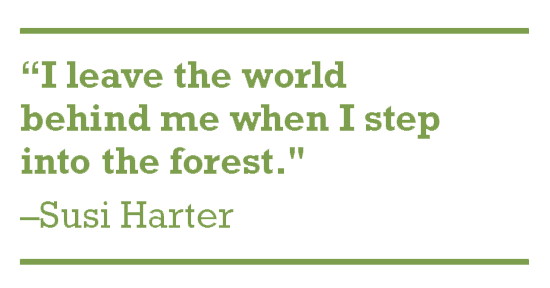 "We thought, 'Well this wasn't the plan, but this is awesome, and it's been preserved for many years,'" Susi said. "This is what we want, we want something where nothing has been done to it and nothing is going to be done to it."
A long-time recreationist and appreciator of nature, Susi is grateful to know the conservation easement will protect the landscape in perpetuity.
"It gives me peace of mind to know when we're gone someday and not around anymore, that this piece of land will always be as it is," Susi said.
In a few years, Susi and Andy hope to live on the property full time. Susi is looking forward to more days filled with exploring the rugged, natural landscape.
"I love walking up and down the crick, just looking at rocks, meaningless things," she said. "It's just a very special place."
---
This story appeared in our spring 2020 newsletter. You can read the newsletter in its entirety here.