Night Beach Forever
Preserving the dunes, and a dear friend's memory, in perpetuity.
When 35-year-old Evelyn Stone passed away in 2018, Jessa Ávalos and her friends wanted to find a way to honor her memory and her love for West Michigan's dunes.
"When our friends think about Evelyn, they think about the beach and the dunes," Ávalos said.
Stone often brought friends to visit her family's Lake Michigan cottage near Silver Lake, Ávalos said. With them, she would marvel at the unique landscape and its mysteries. Stone loved discovering old, lost items—trash with history that she and her friends would remove as they found it. She was fascinated by the Silver Lake Dunes "ghost forest" of dead, ancient trees once buried by shifting dunes that have since re-emerged.
"She would always say, 'The dunes are a magical place,'" Ávalos said.
Stone's favorite thing to do was explore the dunes and visit the Lake Michigan beach in the dead of night, Ávalos said.
"She loved being out in the dunes after dark so you could see the clouds—everything always looked so spooky," Ávalos said. "Evelyn would always really, really want to go to the beach at night. We called her 'Night Beach.' She was the night beach forever queen."
Ávalos and her friends considered a few different ways to honor Stone's love of this iconic Michigan landscape. Ultimately, she decided that the best way for all of her friends to participate would be through a Facebook fundraiser for a relevant cause, and she thought of the Land Conservancy. She had volunteered with the organization on a few occasions and was familiar with its work protecting West Michigan's dunes.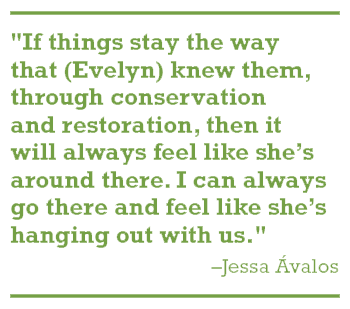 Ávalos's birthday falls just days after the anniversary of Stone's passing. So, in January 2018, Ávalos set up a birthday fundraiser on Facebook inviting friends to donate to the Land Conservancy, "in deeply loving memory of the Queen of the Dunes, mythical mermaid of Lake Michigan, Evelyn Stone." She said the process was easy.
"I knew that if I did it this way, everybody that loved her and wanted to do it would be able to see and it would be really easy for them to do it," Ávalos said.
For her first fundraiser, Ávalos set a goal of $200 to support the Land Conservancy. She raised $220. In January 2019, she held the birthday fundraiser once again—this time raising more than double her goal and donating $431.
Ávalos now intends to hold the fundraiser every year.
"For me, it's just a way of every year reminding myself that she was around," Ávalos said. "I can think of no better birthday present than to know that my dunes are staying super cool. That's what I want."
Knowing that the dunes Stone loved will be protected in perpetuity is comforting, Ávalos said.
"If things stay the way that she knew them, through conservation and restoration, then it will always feel like she's around there," Ávalos said. "I can always go there and feel like she's hanging out with us."
The Land Conservancy of West Michigan is honored that Ávalos has chosen to honor Evelyn Stone's memory in this way and is deeply grateful for her support.
All images courtesy Jessa Ávalos.
---
This article appeared the Fall Newsletter 2019. Read the rest of that newsletter here.