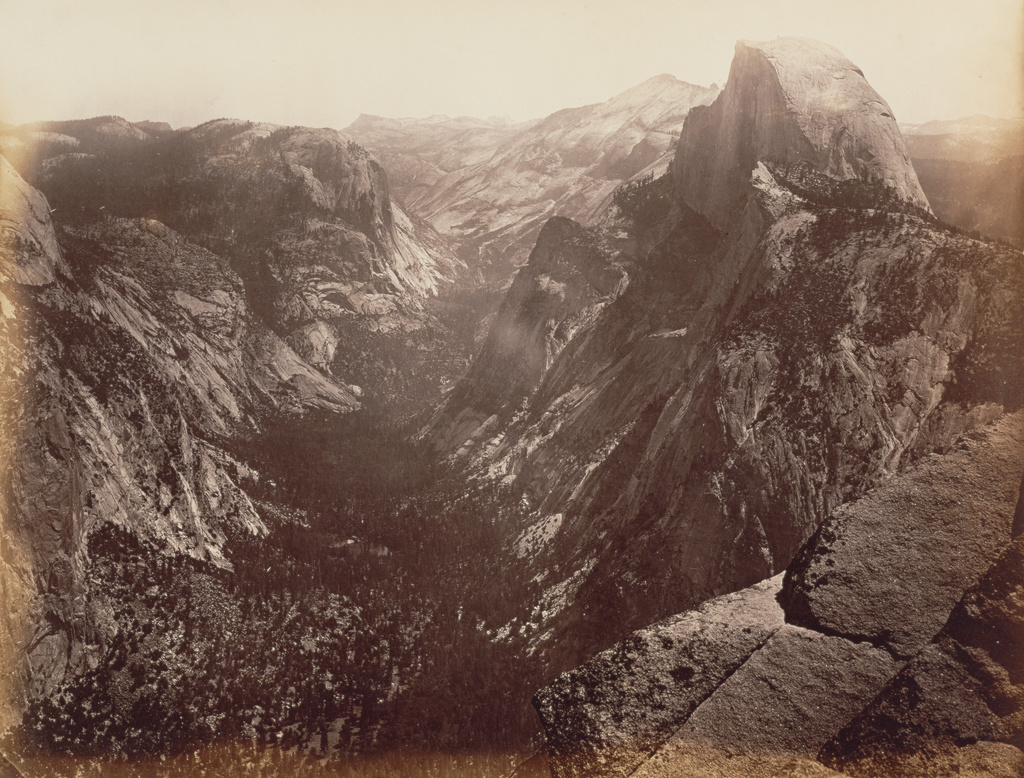 Is There a Watkins in You?
A Year-End Message from Executive Director Joe Engel
In 1851, ten years before the Civil War, 22-year-old Carleton Watkins left Oneonta, New York and headed west to seek his fortune after hearing about the discovery of gold in California.
After a long journey across the breadth of a still wild continent, his dreams ran into reality, and Watkins ended up working as a bookstore clerk in the bustling coastal city of San Francisco. Fate intervened, however, when he was asked to help out the proprietor of a shorthanded, neighboring photography business.
A hunter and fisherman by trade, by 1858 Watkins had started his own photography business and rapidly built a reputation as a skilled and creative landscape photographer. In 1861, Watkins visited Yosemite Valley for the first time and in the process, changed his life and the course of the then-infant conservation movement forever. Using a "mammoth-plate" camera, Watkins captured stunning pictures of Half Dome, towering giant sequoias and mountain and forest landscapes untouched by humans and never before seen by an east coast audience hungry for a visual taste of the rugged, beautiful West.
Well before John Muir and Ansel Adams became the inspirational icons of late 19th century conservationism, this young photographer was already using his gifts to educate a nation, Congress and even a grateful Abraham Lincoln about this country's beauty and the need to preserve it for future generations.
Carleton Watkins (American, 1829 – 1916) [Half Dome from Glacier Point], 1865 – 1866, Albumen silver print 39.4 × 52.1 cm (15 1/2 × 20 1/2 in.), 84.XP.220.32 The J. Paul Getty Museum, Los Angeles
Watkins knew nothing about photography or conservation when he left home in 1851. He had no inkling his eventual avocation would help millions "see" the beauty of a new and exciting natural land and eventually lay the foundation for a national park system that recently celebrated its 100th birthday.
Today, we are graced with technology that allows us to experience nature without ever stepping foot outside. It appears, magically, in our living rooms on 60-inch HD screens with surround sound, luxurious, multi-position seating and access to all necessary creature comforts. No tactile interaction is required or indeed, even possible. Waterfalls can be paused, and a wolf's hungry pursuit of an elk separated from the herd can be viewed in dispassionate, well-pixeled slow motion.
So – how do we find and nurture "today's Watkins" in a world that provides fewer opportunities for exploration and more distractions than ever before?
While challenged by background clutter, those opportunities do exist – and the Land Conservancy of West Michigan, with your help, is excited about making them happen. Past truly remains prologue, and we believe today's and tomorrow's Watkins can still savor the inspirational magic of an autumn walk in a repurposed urban natural area, a sunset hike along protected lakeshore dunes, the soothing stroke of a kayak paddle in a crystal clear river and in the joy of a young child's voice as they reel in their first bluegill while fishing from a Lake Michigan pier.
As 2020 approaches, we look forward to working with you, our incredibly passionate volunteers and supporters, to make sure those opportunities are our gift to the Watkins of today, and the future.
Best wishes for a wonderful, and green, new year!
Joe Engel