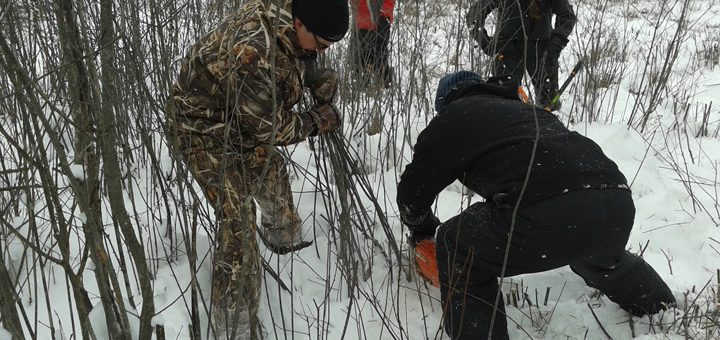 Invasive species removal: Just one step in an effective restoration plan
Studies show that along with outright habitat destruction, the spread of invasive species is a leading cause of global species extinction.
Like many others, we at the Land Conservancy spend a lot of time and energy managing invasive species:
Conducting surveys of invasive species and developing plans for their removal.
Hosting monthly workdays where volunteers faithfully cut, pull, and drag invasive species out of our preserves.
Spending long days in the field to keep invasive species at bay.
But removing invasive species isn't the end of the story, and sustainable restoration doesn't stop there.
In fact, invasive species removal is often effective only if it's done in concert with other management actions that restore natural processes to the land. In other words, effective restoration takes all aspects of an ecosystem into account – not just invasives. Without a more holistic approach, efforts to remove invasive species are often ineffective, and can even make the problem worse.
Native prairie vs. smooth brome
At Saul Lake Bog Preserve, the Land Conservancy is engaged in a long-term project to establish a native tallgrass prairie in an area dominated by smooth brome, a non-native grass.
A major part of the project is to remove the smooth brome. But if we stopped our work there, the brome would come right back. Certainly no prairie would develop.
Instead, after removing the brome, we plant the area with a diverse mix of native prairie species – including species that the brome originally displaced. Then, as the new prairie develops, we carefully re-introduce an important natural disturbance – fire – to stimulate the native vegetation and to prevent the brome from returning.
High-quality fen vs. glossy buckthorn
The situation is similar at Lamberton Lake Fen Preserve, where restoring the biodiversity of a high-quality fen – an important type of wetland – has been a major focus of stewardship at the Land Conservancy in recent years.
Removing invasive glossy buckthorn from the fen is a critical piece of the restoration plan. But that's not all – periodic prescribed fires encourage the recovery of native vegetation, and a recent project to restore the natural flow of water across the site provides the plants and animals in the fen with the right hydrology to thrive.
You can help!
Removing invasive species is – and will continue to be – an important part of stewardship at the Land Conservancy. On Saturday, February 14, join us at Lamberton Lake Fen, where we need all the help we can get to make headway against the buckthorn.
The work we accomplish together there will be especially potent, knowing that a broader plan to restore the fen is in place.