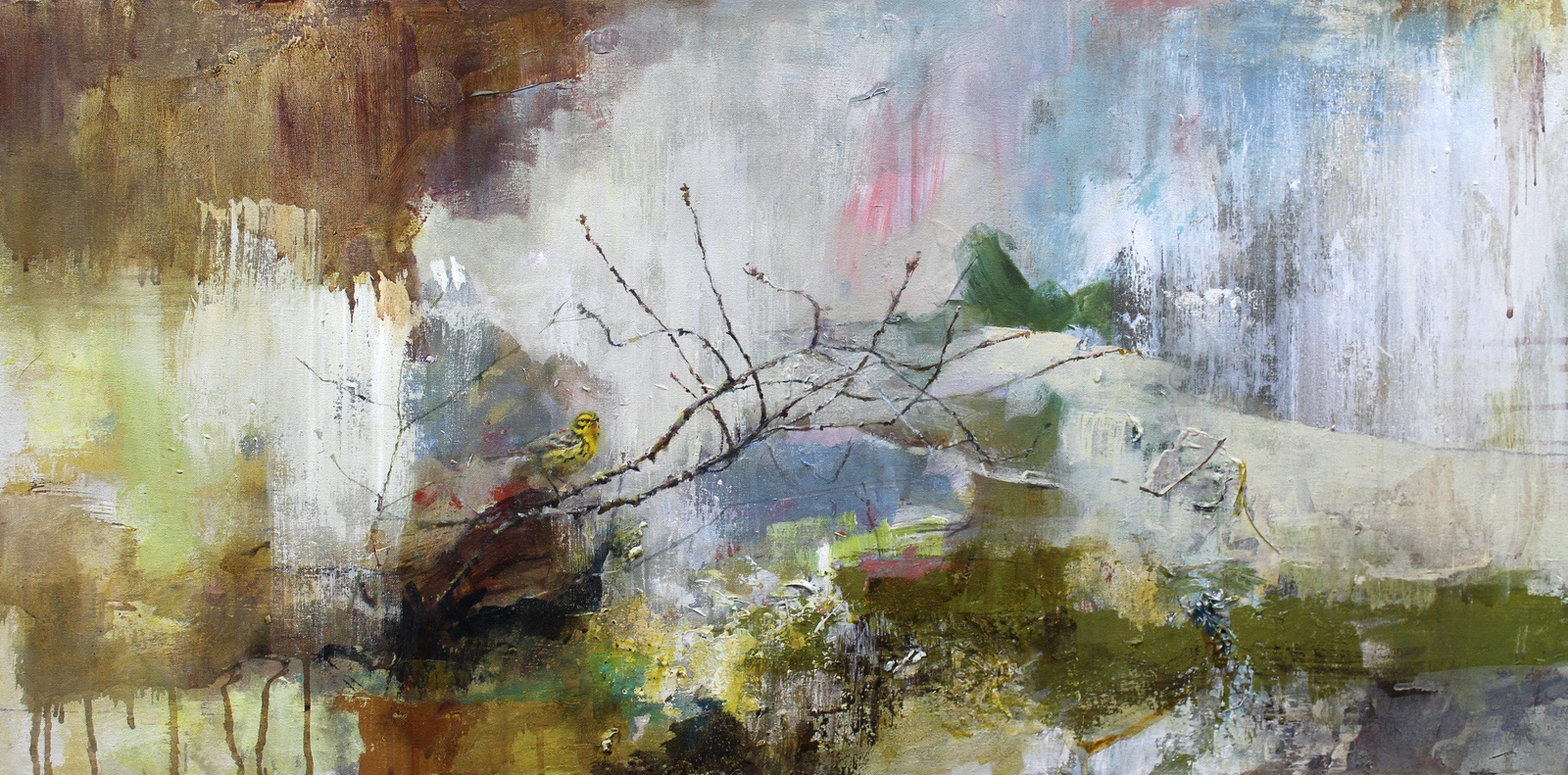 Interview with Justin Kellner
PRESERVED! Artist Interview Series
There's something timeless about Justin Kneller's paintings. They are reminiscent of childhood, in some way, meandering through an expansive, quiet wood. Much of the canvas features nothing but colors scraped across its surface, imparting upon you a tangible mood of venturing deep into wilderness. In one corner, there's suddenly a clear image of a bird or fallen paper birch tree.
They will instantly transport you back to an old quiet wood, where wet, heavy snow mixes with dirt and bark where you kick up clumps of dark brown leaves as you shuffle along. The only movement is the occasional flick of a colorful feathered wing in your peripheral vision.
"I want to create spaces that will evoke memories in the viewer, or of feelings they may have had once of being in a space they've felt in the past," he explains.
Justin is primarily an acrylic painter, but that wasn't always his intention.
"I originally wanted to become a cartoonist," he confesses. "I enjoy creating something out of nothing. Being an artist gives me a certain sort of freedom to do whatever I want."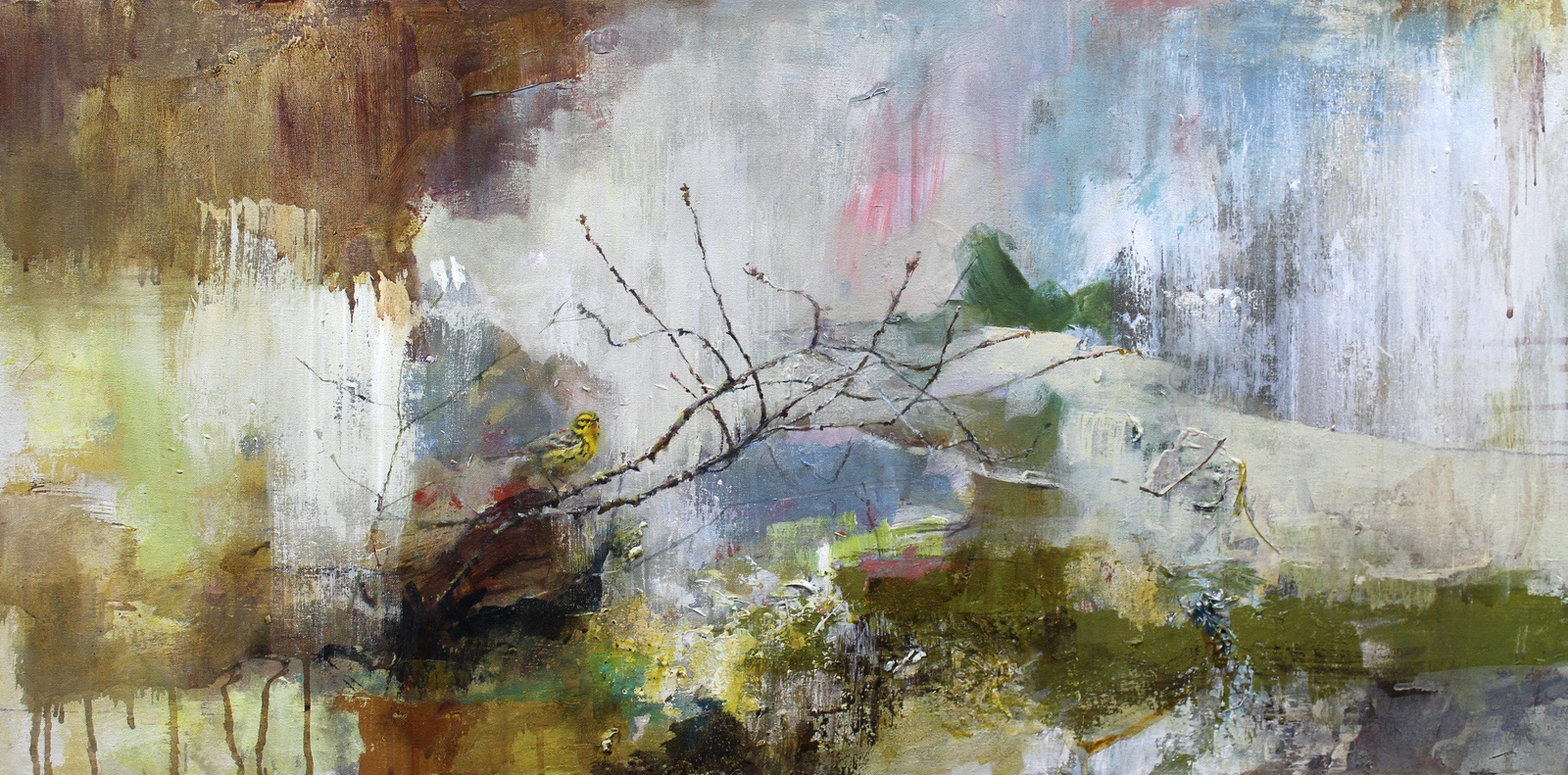 This freedom doesn't mean creation is always easy. There are always difficult days when inspiration is there, but the piece isn't coming together. Even so, Justin says that he suspects artist's block is more of a myth.
"In the sense, I feel like I've been in an artist's block for the past six years!" he says. "Creating work isn't easy. It's just that—it's work. Constantly being unsatisfied pushes me forward to do better. There's always a better painting to be made."
Justin doesn't have to go very far to find someone who inspires him to work through the tough days.
"My wife is a constant source of inspiration through all her hard work and sacrifice," Justin says. "She's everything: an amazing artist, a driven worker, constantly interested in what's going on in today's world, a respected teacher, and all while being an incredible mother to our one year old son, Charles. There aren't enough hours in the day for her to do it all, yet, somehow she still does."
Justin finds further motivation by setting goals for himself. The prestigious Birds in Art Exhibition is a show by the Leigh Yawkey Woodson Art Museum in Wisconsin. It's been around since 1976, and only 100 works are accepted annually into the show by jury review.
"It was a life goal of mine to get into this very prestigious exhibition, and I had been trying for years," Justin says. For this reason, his first piece to get accepted into this show became very sentimental for him.
"I try not to get attached to any of my paintings," he says. "I think it's best to create them and then move on. But letting go of some pieces is easier said than done! I have a few pieces I will never part with."
His first Birds in Art piece still hangs on his wall, not only is it a reminder of persistence and triumph, but it also exemplifies his work: birds and nature.
"Nature is the driving force behind my artwork, whether it be in my abstractions through the various textures and forms found in the landscape or through the realistic imagery of birds I use," Justin says. "Going out birding and hiking while gathering reference photos for my paintings is a huge inspiration for my work. Searching out and identifying various species has led me to explore Michigan's parks and wetlands. I've explored the unique environments of individual species, many of which are maintained by conservation efforts."
To effectively evoke the feeling of being in nature, Justin often literally infuses nature into the work. To create the interesting textures, he'll paint over top of sawdust, pine needles, or other natural elements.
"I want the feeling of the environment to show through in my work," Justin says. "I'm trying to convey the feeling of digging your fingers deep into some wet moss and pulling it up slowly from the roots. This feeling is fresh, yet musty at the same time. It's dank and gritty and muddy."
As a naturalist and an artist, it's no surprise that Justin wants his work to impart a larger meaning.
"Habitat loss resulting in the decline of many bird species through human expansion and climate change are ideas that inspire my work and are infused into it," he says. "I always want to help educate and inform viewers on my subject matter through my artwork, but more importantly, I hope my work to creates a curiosity in the subject matter. I would rather spark an interest in a viewer so they then in-turn go out on their own and explore these issues and ideas. I always enjoy when people come up to me asking to help in identify what bird they saw while they were out camping or what bird they saw in their yard the other day."
But Justin hopes that his work can succeed in more than just an educational way.
"From an artistic side," he says, "I want people to simply enjoy the work as they are; as successful paintings, interesting brush strokes, textures, ideas.  I'll forever be a painter before anything else."
Justin saw the Preserved! program as a perfect fit to what he already tries to accomplish with his work.
"Through the Preserved! Program I can utilize my ability as an artist to achieve some direct good for the environment," he says. "I can help raise awareness of the Land Conservancy's various properties for people to explore, and also, through sales of work, I can directly contribute to the Land Conservancy's goal of protecting land."
---
Learn more about the Preserved! program and read other artist interviews here.