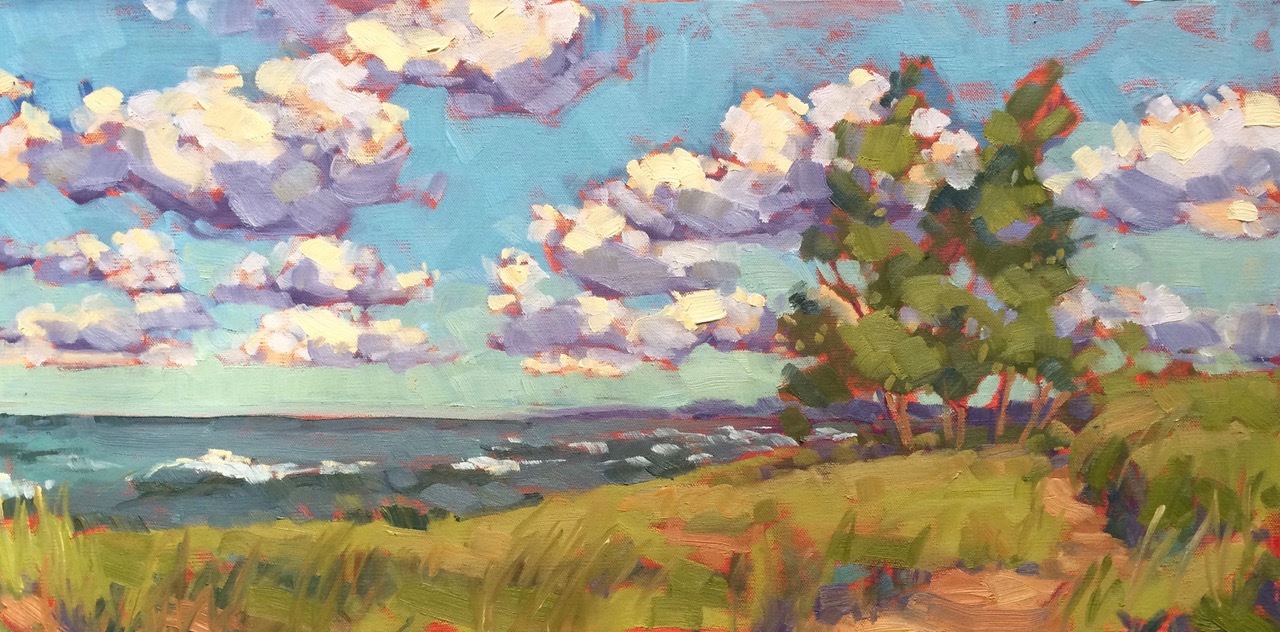 Interview with Anne Corlett
PRESERVED! Artist Interview Series
Anne's house is located in Saugatuck along a winding road that borders the winding Kalamazoo River. The leafy crowns of the surrounding towering trees fracture the sunlight, so it dances gleefully on the house's dark wood siding. A wild, blooming garden wraps around the entrance walk. Anne is outside, dealing with some heavy potted plant, and she waves to me.
Anne is lovely and chatty and in her studio the smells of wood and paint mix together. Everywhere against the dark wooden walls are canvases upon canvases of her work, each painting in a different state of completion. The front wall is all window, with a glass door leading onto a patio.
Anne was born into a family of artists. "As long as I can remember, I was an artist. Both my grandmothers were painters," Anne says. One of her grandmothers even attended the Art Institute of Chicago way back in the nineteen-teens. "So I grew up seeing that it was a worthwhile occupation."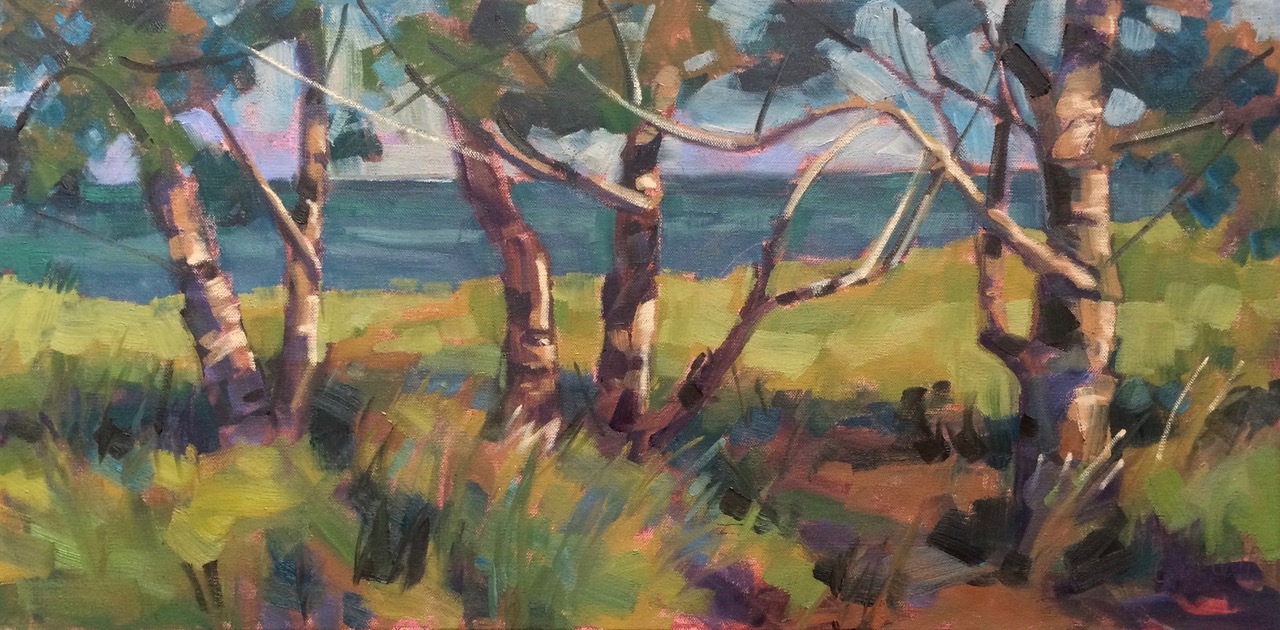 Anne is accomplished in pastel work, but today she prefers oil paint.
"Oil paint is much harder, for me," she says, "but I think that's why I'm obsessed with it. I'm a long way from understanding it the way I understood pastel."
Anne is primarily inspired by artists who feature and respond to the natural environment in their art. She loves the work of the Canadian Seven, a group of artists from over a century ago.
"The government in Canada made them superstars," she says, "because they were celebrating what was important—all this great open space."
Much of America's great open space is preserved in National and State Parks, many of which Anne visited in the course of a three year period and 15 different trips as she travelled across the country and painted a plein-air painting in each state.
"On of the hardest thing as a full time artist is you have to provide your own structure, and you have to provide your own problems to solve. You go to a job, and there's a to-do list. You walk in your studio–you have to create your own! That's hard! What am I painting? And why? So this project gave me great structure. And I saw a lot of people out there enjoying and experiencing nature," she says. "That was wonderful."
There's a reason Anne chose her project to be plein air-paintings, and not just paintings inspired by the different states.
"A plein-air painting is fresh," she says. "It's the environment talking to me. It's my heart. When I'm in nature, I feel connected in a way without time. It's really powerful stuff."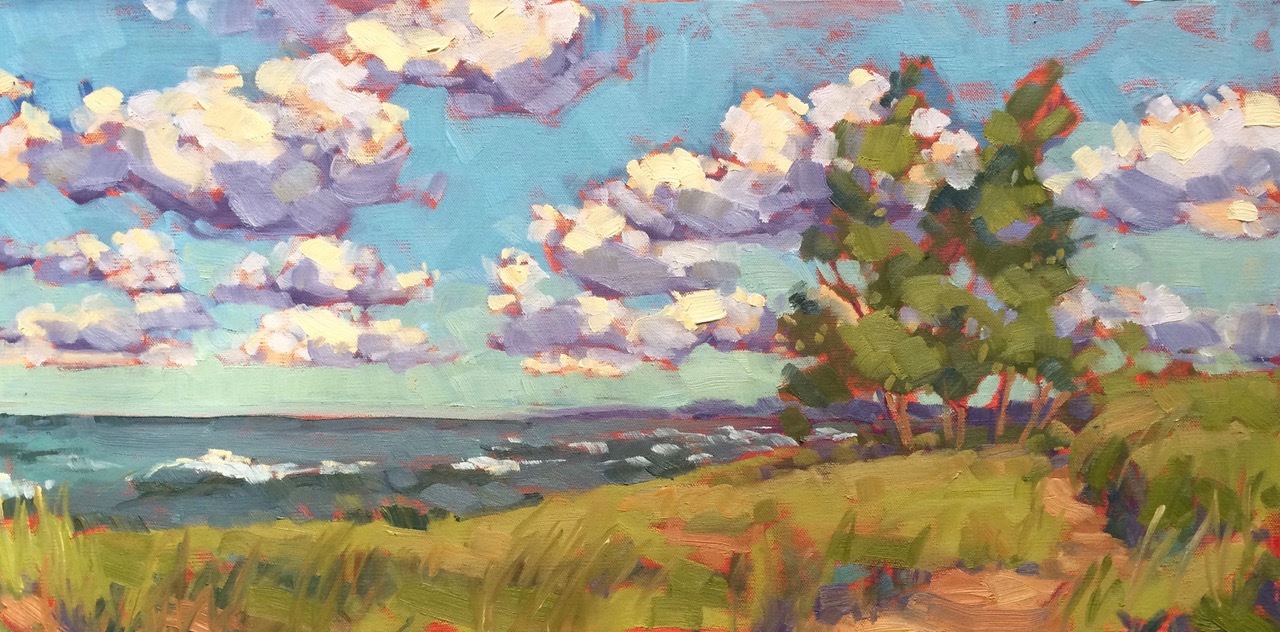 She also has local inspiration. "There was an artist named Carl Herman. He did beautiful, beautiful landscapes of this area. I've copied a bunch—it's almost like taking a class. This was long ago in the 40s, so he's been long gone, but when you copy a work, it's like taking a master class from a dead guy. It really is. And as you copy, you're like, "Oh my god would you look at what he does here!"
Anne loves the Preserved! program because it not only supports conservation, but the work directly benefits natural areas in Michigan.
"I am really invested in this particular landscape where I live," Anne says. "It's so unique. You go around the country, there isn't much else like it. Here in Saugatuck, the health of the lakeshore is a huge part of why people come here, which then supplies a lot of jobs. We are so lucky to live in this beautiful place."
For Anne, art helps celebrate the importance of the natural environment.
"I think, often, we lose the forest for the trees," she explains. "Everyone is worried about paying their bills. And I get that. I have those worries – but we've lost the long view. The health of the planet is more important than your bank account. Why aren't we saving this for the next generation? It's so selfish! If I can make even one person understand how important the beauty of raw, untouched nature is, then I've accomplished something."
---
Learn more about the Preserved! program and read other artist interviews here.