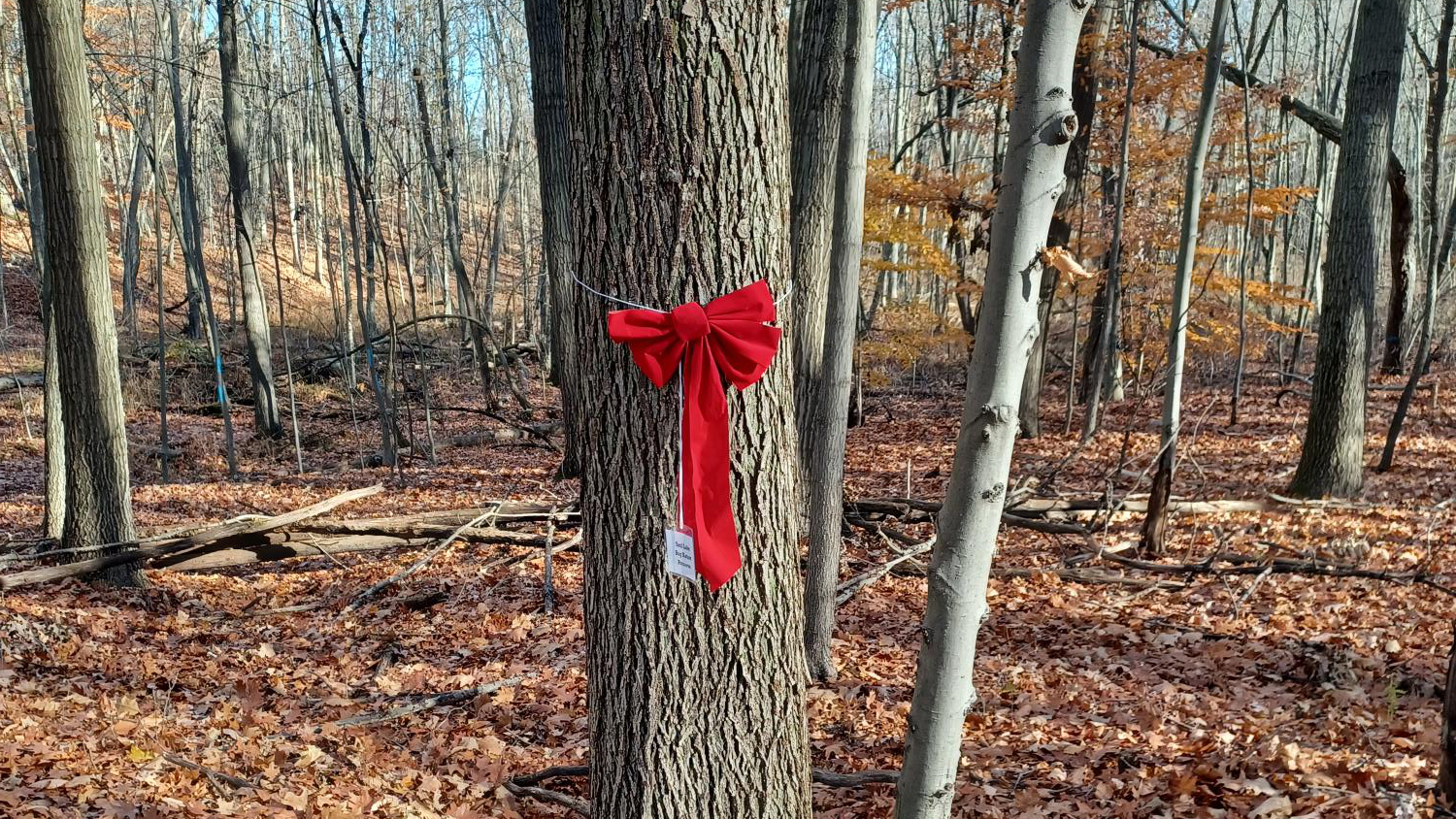 How to safely enjoy the Land Conservancy's Holiday Hike Challenge
Getting outside in winter is a great way to boost your mood, especially if you are sensitive to the shorter days and harsher weather. Land Conservancy of West Michigan nature preserves are open for exploration year-round, and the cold temperatures need not be a deterrent for an invigorating hike through the woods if you are properly prepared.
This season, the Land Conservancy is once again hosting its Holiday Hike Challenge which provides an extra incentive to get outside in the winter weather: the chance to win cool prizes! Before you embark on your search for the holiday bows we've hung in our nature preserves, we've prepared some tips for how to safely explore nature nearby this season.
1. Plan your visit
Research your destination(s): Know before you go! The Land Conservancy lists detailed visitor information about our nature preserves on our website. Take note of the address, parking situation, trail length, and amenities at each destination so you can know what to expect when you arrive and about how long you will spend at each preserve.
Bring a buddy: A solo hike is delightful, but there is safety in numbers. Consider bringing along a friend or joining a group hike! Lea Sevigny of Joyful Wildcrafting is hosting a group hike at each of the Holiday Hike Challenge locations this year. Learn more and sign up to attend those here.
Choose safe conditions: Plan on making your visit during the daylight hours on a day with good weather. Land Conservancy of West Michigan nature preserves are open dawn-dusk, and this is the safest time of day to explore them. As the days grow ever shorter, be mindful of when the sun is setting on the day of your excursion. Try to avoid driving in snowy or icy conditions. It is hunting season, so it is best to avoid the early and late hours of the day
2. What to bring
A loud, cozy outfit: Dress warmly in layers. Wear bright colors like blaze orange especially if the preserve you're visiting is hunted or near hunted land. Wear warm boots with good traction and consider Yaktrax for additional traction if conditions are snowy or icy. Pack an extra set of dry clothes and boots.
A fully charged cell phone: In a pinch, your phone can be a life saver, whether as a lifeline, GPS, or flashlight. Make sure it has the battery life it needs to perform these vital tasks! Keep your cell phone close to your body while hiking, as colder temperatures can cause devices to shut down.
Snacks and water: In cold and snowy winter conditions, a short hike can take more energy than you might expect. Even if you don't expect your planned visit to take very long, it's always good to have some extra rations on hand to make sure you are well fueled and hydrated.
Flashlight or headlamp: When you're having fun on a mission to find bows, the day can quickly get away from you. Or you may not anticipate how dark the forest will get even before the sun has set. A backup flashlight or headlamp will ensure you can safely find your way back to your car if things get dark.
First aid kit: It's always good to have one of these around.
3. Before you go
Tell someone your plans: Let a friend or family member know where you are going and when you can be expected to return. If something happens, then they will be able to act quickly and get help as soon as possible.
Gas up: Make sure your vehicle has enough fuel to make your planned journey.
Get excited: Nature is magical in winter—you are in for a treat! Because you are prepared, you can be confident that you will be safe and comfortable on your travels.
Have fun, stay safe, and good luck on the hunt!