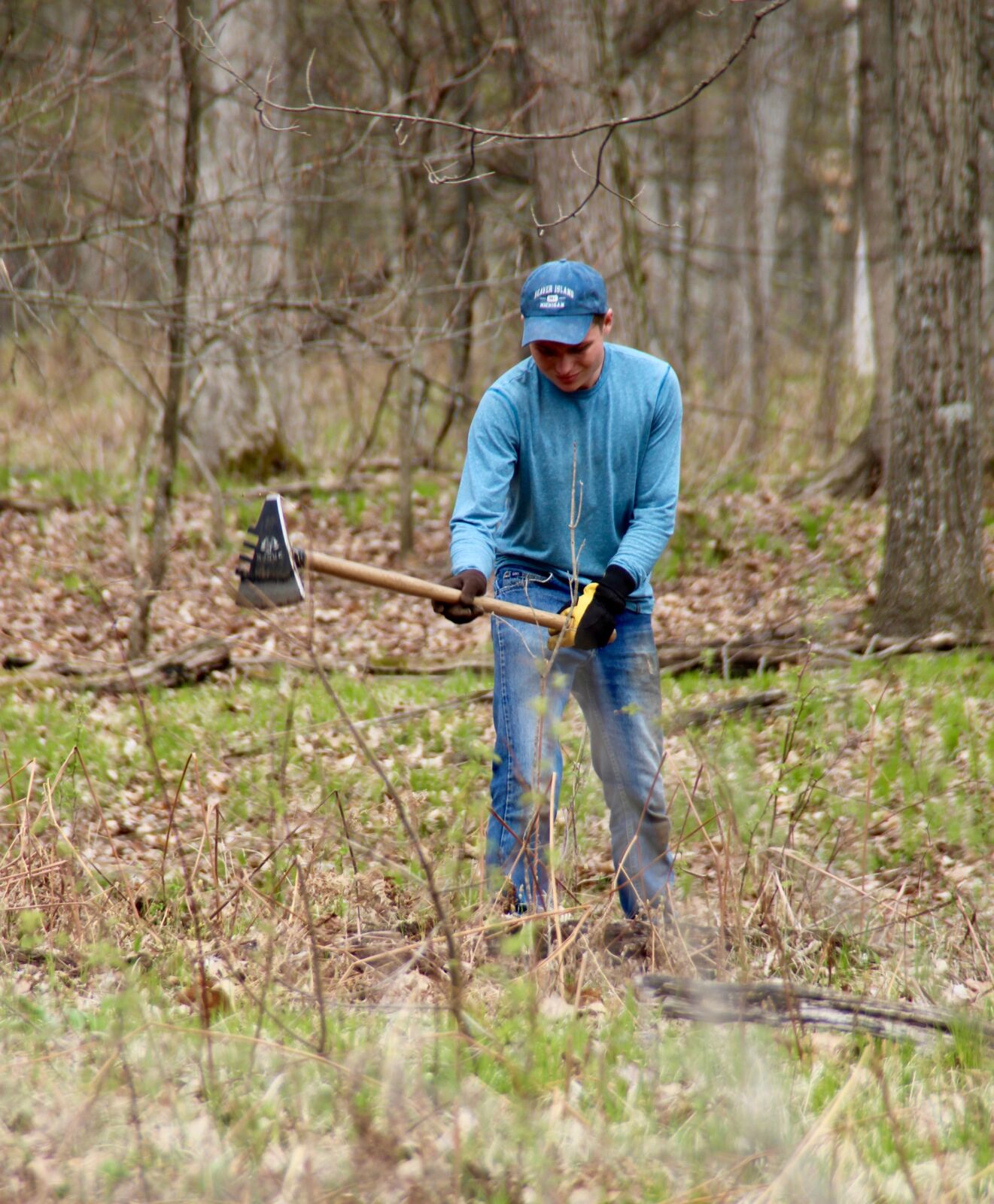 Focal Region Feature: Big Forests & Wild Rivers
The Land Conservancy of West Michigan's Strategic Conservation Plan identifies three regions where we will focus conservation efforts. In this article, we explore the Big Forests & Wild Rivers region in a Q&A with LCWM Conservation Easement Stewardship Specialist Nick Sanchez.
Why is the Big Forests & Wild Rivers region important to protect? 
NS: If you open your favorite mapping app and scan the aerial imagery of the West Michigan, you can easily recognize the vast expanse of dark green that is the Big Forests and Wild Rivers region. It represents our highest quality and largest intact landscape and its full of wetlands, bogs, barrens, oak and pine forests, and clean and cold streams and rivers. This is made possible by the Manistee National Forest and by countless private landowners whose lands connect and protect the area. All this natural land, combined, provides a spectrum of natural conditions and niches needed to support biodiversity. 
What are the unique challenges of meeting LCWM's strategic conservation goals in this region? 
Driving through, you get the feeling of abundance. Why would we need to help families protect land where there appears to be endless forests and no obvious threat? But Michigan's history offers a cautionary tale about forests that appear to go on forever. There is a critical need to reduce the fragmentation of larger forested parcels, and limit development which plagues so many of our natural areas and waterways through deforestation, the introduction of invasive species, and warm and polluted surface water draining from roads and parking lots to streams and rivers. 
This is also a fire-dependent landscape which, until the last century's major fire suppression efforts, burned somewhat frequently at low levels of intensity. These fires spread by Native Americans and sometimes lightning maintained openings in the forest that supported species like the now endangered Karner blue butterfly and kept the fire-dependent oak trees competitive. The fires perpetuated a patchwork of old-growth, maturing and young forests and openings in a state of renewal. Without fire, these ecosystems and the habitat they provide degrade overtime and are often in need of restoration. 
Can you share an example of the kind of work LCWM has already done in this region? 
A great example is the "PM Wild" project, which helped spread the word and shared costs with landowners to help protect their land with conservation easements. We now have over 30 conservation easements in the Pere Marquette River watershed. Some of our most impactful work is done by simple word of mouth from our long-standing supporters who are trusted by the community. 
How is LCWM advancing its efforts in this region? 
LCWM is advancing efforts on many fronts! A couple of examples include seeking additional landowners to explore protection options and partnering with like-minded organizations like The National Wild Turkey Federation, Trout Unlimited and the US Fish and Wildlife Service to help identify needs and connect private landowners with resources for restoration practices like tree planting and prescribed burning. This is a great way to connect with neighbors and other landowners who support conservation on the landscape as well, which occasionally leads to additional protection measures. 
What is your favorite part about this region and why? 
I think my favorite part is walking along the crystal clear, cold streams that meander through, around, and under the hemlocks and cedars. The hidden giant white pines that perhaps escaped the logging era. The somewhat eerie feeling of being close enough to the wild that there is a chance you might meet a bear today. It's not just a campy name, it's true, the forests are big, and the rivers are wild. And if you