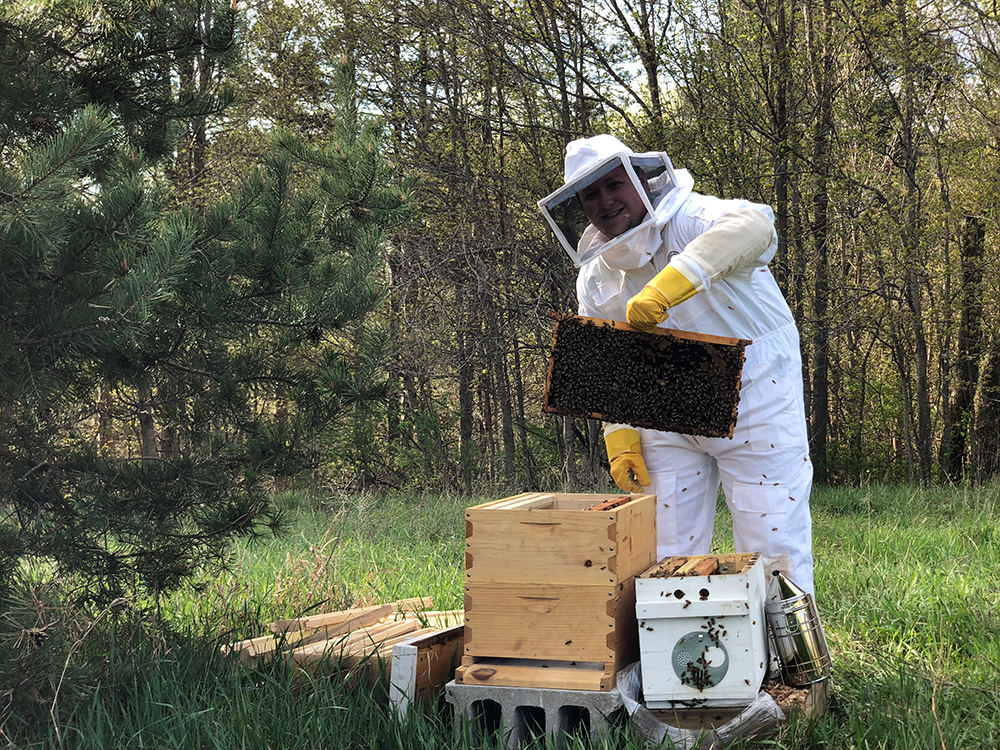 Eric Bassett finds a natural refuge close to the city
Eric Bassett grew up near Big Rapids in a rural environment. When it came time to go to college, he always knew he wanted to go to Grand Valley State University. He went, and as he expected, he loved it. 
When he graduated, he wanted to stay in the area and build a life that gave him the best of both worlds: the amenities of city living and the natural surroundings he appreciated from his country upbringing. He set out on a search for land to purchase and in 2017, he found the Vanderbout property-—a 30-acre haven located just minutes from Grand Rapids' city center. 
"I toured it and thought it was perfect," Eric said. 
The parcel had been in the ownership of the Vanderbout family since 1883. It was part of what was originally a 240-acre farm. Today, this parcel is the only portion of the former farm that has not been developed or mined for its gravel. It will never be developed or split up thanks to Cecilia Vanderbout, who made the decision to protect the land with a conservation easement. 
The property had been on the market for a while. Eric said other buyers were turned off by the restrictions the conservation easement placed on developing the property. 
"For me, it was perfect. I didn't necessarily want to develop it. I wanted natural space around me," he said. 
Eric lives in the house on the land and is surrounded by a "buffer" of natural space, including a ravine with a mature mixed hardwood forest and open fields formerly used for pasturing animals.  
The geology of the property has made it a haven for local wildlife. Large birds can perch in the trees at the top of the ravine while hunting in the property's open fields. In spring, the ravine slopes host a variety of wildflowers and groundwater seeps that flow into an intermittent stream at the bottom of the ravine. The property's soil is very porous with a great deal of gravel. Rainwater can seep in, cooling and purifying the water before it enters the Grand River to the west. The conservation easement ensures the land will be able to provide this service to the local water quality forever. 
Eric has enjoyed working on the property. One of his first orders of business upon moving in was to install solar panels. He's tapped the maples on his property for syrup, and he's kept bees, turkeys, and chickens. One day, he hopes to have cows. 
"Growing up, I did 4-H," Eric said. "It was something I always loved. I wanted cows; I knew that was a goal of mine eventually." 
Eric is also interested in restoring natural habitat on the land, as well. He hopes to plant native plant species in the old fields. 
Though Eric acknowledges that having restrictions on the property is not without its frustrations, he ultimately appreciates that they are in place to preserve the land. 
"When you become a conservation easement landowner, you need to keep in mind that from that point on, the land comes first. Everything else is second to preserving that natural space. At times it can be a little annoying being restricted in certain ways, but at the same time you have to remember the responsibility you've been given or undertaken." 
Eric appreciates that Land Conservancy staff visit on an annual basis to monitor the property—a time he takes advantage of to ask for advice. 
"I've found that it's a great time to ask questions, talk about future use, get their opinions on things to do on the property as far as plantings, things to remove, to make the property the best it can be," he said. 
Eric attributes his perspective on conservation to his upbringing in the outdoors. 
"Growing up, I spent a lot of time outdoors with my grandpa. Hunting, fishing, or doing a little bit of farming, food plot plantings. Through that, I learned about taking care of the natural habitat. I loved being outside seeing these beautiful open, green spaces," he said. "The land we have is the land we will have forever. There's never going to be more of it. I believe strongly in protecting it and taking care of what we have."
Image: Eric Bassett tends to his bees, courtesy Eric Bassett.