Conservation Agreement Success: Reed Family
200 Acres along the Pere Marquette River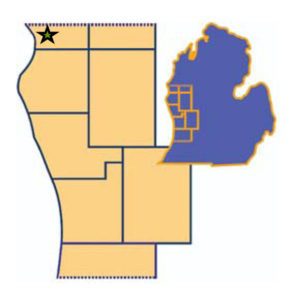 Todd and Budde Reed love to hunt. They also love the scenic beauty and forested river frontage of their family's private hunting land, and so do their sons. For these reasons the Reeds created a conservation easement with the Land Conservancy of West Michigan that permanently conserves their 200-acre property along the Pere Marquette River near Ludington.
The Reeds' land is protected forever, yet will remain in private hands with no public access. The family can continue to hunt the land, build one additional cabin, restore the land for wildlife, and pass it along to their sons.
There are public benefits to the Reeds' conservation easement as well. The protected land includes over one mile of frontage on West Michigan's only un-dammed river, the Pere Marquette. Canoeists, kayakers and anglers floating past the property benefit from the peace and beauty that comes with an unbroken view of forested natural land – without needing to worry that the hemlock, cedar and pine forests will ever morph into a field of 'McMansions'.
Mature forests spread from the edge of the Pere Marquette River far into the property, and provide excellent habitat for owls, deer, foxes, porcupines and eagles. An ephemeral wooded wetland (one that is seasonally wet) is rife with salamanders and frogs, which bellow out their calls in the spring. This dynamic property with its varied land cover will now remain a place of quite beauty forever.
Their land is more than hunting land, and more than a place for the family to retreat. To the Reed family, the property is also a landscape waiting to be photographed. Todd and his son Brad Reed run a gallery in Ludington showcasing their breathtaking photography (www.toddandbradreed.com). Budde's son, Ryan Spencer Reed, is also a world-renowned photographer. The natural qualities of the property provide an excellent subject for their exceptional talents.
"By donating a conservation easement, the Reeds made an extraordinary gift for the long-term health and beauty of the Pere Marquette," said Julie Stoneman, Executive Director. "They are setting an example for other landowners along the river who may be considering their conservation options. The Reed family's leadership will very likely lead to other protected properties throughout the watershed."