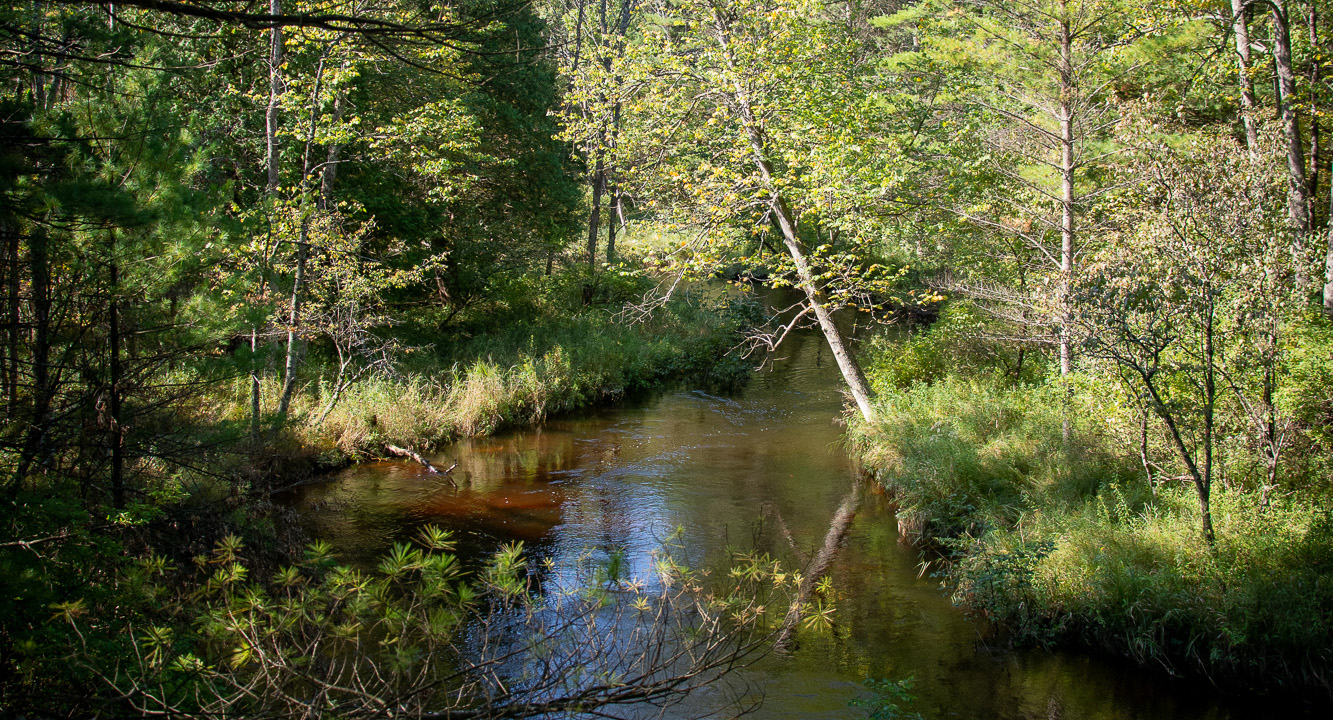 35 conservation agreements. 3,300 acres of protected land. One community.
How neighbors have worked together to protect the Pere Marquette River.
Conservation agreements are often viewed as private, individual acts of conservation, where landowners work directly with a land trust to protect their own land from development based on their vision for future use of the property.
In reality, conservation agreements often start with community. There is no better example of this than the neighbors on the Pere Marquette River who have collectively protected over 3,000 acres of this beautiful watershed.
Protecting Touhi Hunt Club
In the 1980s, Dick and Lu Schwikert, seeking an escape from the rush of city life, bought and renovated a cottage in Baldwin with over 4,000 feet of frontage on the Pere Marquette River. The 100-acre property had been abandoned for years. The windows were shot out and the charred remains of trespassers' campfires dotted the landscape. The Schwikerts' realtor suggested they refer to the land as a "hunt club" to discourage uninvited guests, and so they named the property "Touhi Hunt Club."
The Schwikerts eventually retired and moved to their riverside cottage full time. Protecting the land's natural assets was important to them.
"We were interested in making sure it stayed as wild as possible," Dick Schwikert said.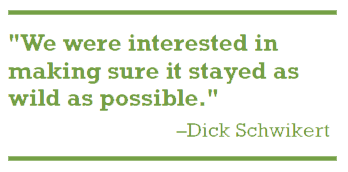 The Schwikerts learned about conservation agreements and the Land Conservancy of West Michigan from Will and Joan Wolfe, who had also moved to the Baldwin area after establishing one of the organization's first conservation agreements on a lakeside property in Kent County. The Wolfes encouraged the Schwikerts to contact the Land Conservancy, and in 2001, Dick and Lu  established the organization's first conservation agreement on the Pere Marquette River.
Lu Schwikert has since passed away, but Dick Schwikert, age 83, remains actively involved in his community of riverside property owners. He is a member of the Lake County Riverside Property Owners Association, otherwise known as "the Riparians," and the Pere Marquette Watershed Council. Dick recognizes that in their rural community, protecting the river is a common cause that brings people together.
"There is no other way of getting together with people up here unless you have something to work on," Dick Schwikert said.
Dick Schwikert's community works on conservation—and it is the bonds of community that make conservation a reality. Since working with the Schwikerts, the Land Conservancy has established 34 more conservation agreements on the Pere Marquette River, collectively protecting over 40,000 feet of Pere Marquette River frontage.
The Wherleys' Riverside Haven
The Wherley family established the Land Conservancy's 35th conservation agreement on the Pere Marquette in July 2019.
For years, Andy Wherley had dreamed of owning a riverside home in Michigan. His grandfather, who lived in Alma, taught him to fly fish on visits to numerous Michigan rivers, including the Pere Marquette.
"I developed a love for rivers and fly fishing," he said. "I thought, I would love to someday have a home on a trout river."
On vacation with his family in 2018, that dream became a reality. A realtor showed him a 10-acre plot of land with 1,000 feet of river frontage. It was a secluded parcel, surrounded by state land and scenic views. It had a charming, simplistic cottage built in 1921.
"We loved it," Wherley said. The family purchased the property soon after.
The realtor told Wherley about conservation agreements and the attractive associated tax benefits. In favor of conservation and saving on property taxes, Wherley saw establishing a conservation agreement as a win-win situation. He was further encouraged by his neighbors, who connected him with the Land Conservancy of West Michigan.
"It was nice to know I wasn't alone in doing it, and that no one had encountered negative consequences from doing it," Wherley said.
Wherley is glad to know his land will be protected forever.
"It is a beautiful property. It's nice to know it will be protected," Wherley said. "Having seen pictures of the river at the turn of the century—to see it come back to where it is now shows the importance of protecting it."
Dick Schwikert said it isn't uncommon for newcomers to the Pere Marquette River to develop a passion for conservation.
"Almost everybody that comes here feels that way eventually," Dick Schwikert said. "People want to protect it as it is."
Together, through the strength of community, they can and they have.
---
This article appeared the Fall Newsletter 2019. Read the rest of that newsletter here.