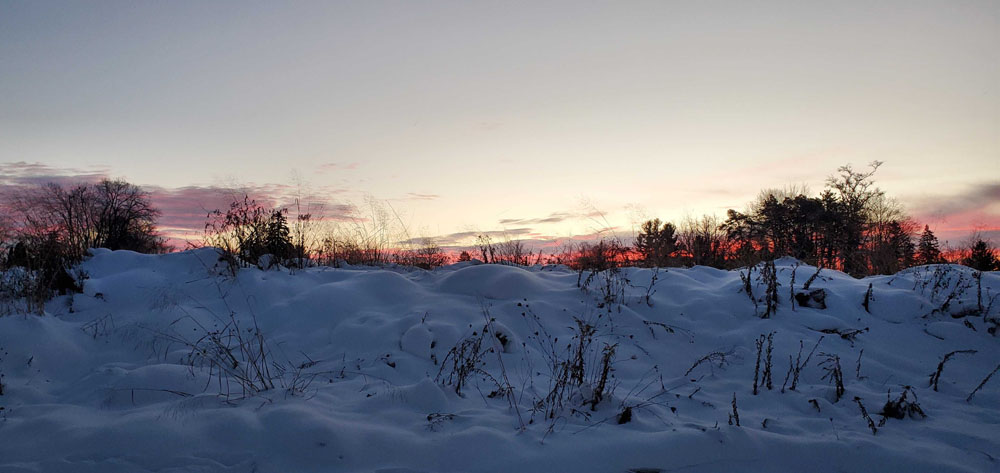 2022 Year In Review
The year 2022 brought many wonderful gifts and experiences for the Land Conservancy of West Michigan. Join us as we reflect on the year! 
Land Protection
Staff News
April Scholtz retired from her position as Land Protection Director at the Land Conservancy of West Michigan after nearly 30 years in the role. We are grateful for her stellar leadership during her tenure. Ruth Thornton joined LCWM as Land Protection Director in spring and has been expertly managing a steady flow of projects since she began. 
Upriver Nature Preserve is donated to the Land Conservancy
An anonymous family generously donated 155 acres of land along the Little South Branch of the Pere Marquette River this year. The donation included 147 acres to be opened to public exploration and an 8-acre parcel with a house intended to be sold to endow the nature preserve. The Land Conservancy team and volunteers spent the summer preparing the preserve for public use and celebrated the opening of the preserve in October. 
Muskegon County celebrates opening of Dune Harbor Park
After a successful fundraising campaign, the Land Conservancy of West Michigan joined Muskegon County to celebrate the dedication of the southern 214 acres of Dune Harbor Park Muskegon County. 
The Highlands is protected by a conservation easement
The Highlands is a unique property to protect because it is co-owned by Blandford Nature Center and the Land Conservancy and each organization owns a portion. The portion owned by the Land Conservancy is protected as a nature preserve. As of late January, the portion owned by Blandford is protected by a conservation easement, ensuring that the entirety of the property is legally protected and any activities on the land must prioritize protection of the land's natural features. 
Supporting the continued care of Pere Marquette Conservation Park
The Land Conservancy of West Michigan has continued to raise funds and support the work to protect and develop Pere Marquette Conservation Park into a beautiful park. The money we raise will be committed to ensuring the park is well-maintained for generations to come. You can still support this project with a donation here.  
Preserve Stewardship
Staff News
Ari Henson joined us this summer as Stewardship Intern. We were grateful to have her support maintaining our nature preserves throughout the summer field season. Jason Googins, who has shared his expertise with the Land Conservancy on a seasonal basis since 2018, is now on the team year-round.  
Stream Daylighting at The Highlands
After years of planning, a long-buried stream again runs on the surface of The Highlands. The 1,800-foot stream will capture millions of gallons of stormwater each year, contributing to improved water quality in the Grand River Watershed. Volunteers later helped us plant trees and native riparian, floodplain, and upland plant species around the stream, laying the groundwork to support a biodiverse community of plants, insects, birds, and wildlife. This project was made possible through collaboration with The City of Grand Rapids Environmental Services Department, the Land Conservancy of West Michigan, Blandford Nature Center, the Michigan Department of Environment, Great Lakes, and Energy, and many other wonderful partners. 
By the Numbers
500 trees

planted 

 

22 acres

grassland planted 

 

5 prescribed burns

, totaling

53 acres 

 

17 miles of trail

maintained;

3 miles of new trail

built 

 

3 preserves

outfitted with new entrance and trail signage

 
976 acres

and

18 properties

monitored

 

18.5 acres

of hemlock forest saved from invasive hemlock woolly adelgid

 
Conservation Easement Stewardship
Chris Long joined the Land Conservancy as Conservation Easement Stewardship Specialist this year. He got to work right away meeting with landowners to perform annual monitoring of their conservation easement protected properties. In total, we monitored 9,170 acres of land across 124 conservation easements in 2022. 
The choice to protect private land with a conservation easement is a great way to ensure land will stay natural—but ensuring the health of the landscape requires a proactive approach. Annual monitoring is one part of this, but some landowners take it a step further by working on active conservation projects. This year, 45 conservation easement landowners are doing active conservation work on their land, such as planting native trees and seeds, managing invasive species, and performing sustainable forestry. We planted 2,000 trees on conservation easement properties this year, with support from Trout Unlimited. We are grateful to be able to work with so many conservation-minded landowners! 
Board of Directors
Claire Guisfredi, Carl Erickson, and Dave Rinard completed their terms as board members this year. We are grateful for all of their contributions and support of the work of the Land Conservancy. We welcomed new board member Amy Bies Kenny in July.  
Community
A knowledgeable group of individuals co-hosted several outings at the natural areas the Land Conservancy has helped protect throughout this year. We sincerely thank Maisie Wiler, Joe Engel & Rob Beahan, Joel & Josh Betts, Nicole Feenstra, and Lucas Dykstra for helping us all learn a bit more about what there is to discover in West Michigan's natural areas, from native plants and fungi, to local history, to mindful ways to move through nature. 
This year, 383 volunteers gave their time to support the work of the Land Conservancy. We are, as always, grateful to our community of volunteers for the many ways they help keep nature nearby, whether they are removing garlic mustard, stuffing envelopes, or contributing to our board and committees. Thank you for all you do. 
Over 1,000 people made a gift to support the work of the Land Conservancy of West Michigan, 95 of whom did so for the first time. We depend on their generosity to help people protect, enjoy, and care for natural land in West Michigan. Thank you to all who made a gift this year.   
Thank you for a great year. There is more wonder in store for 2023—we'll meet you there!