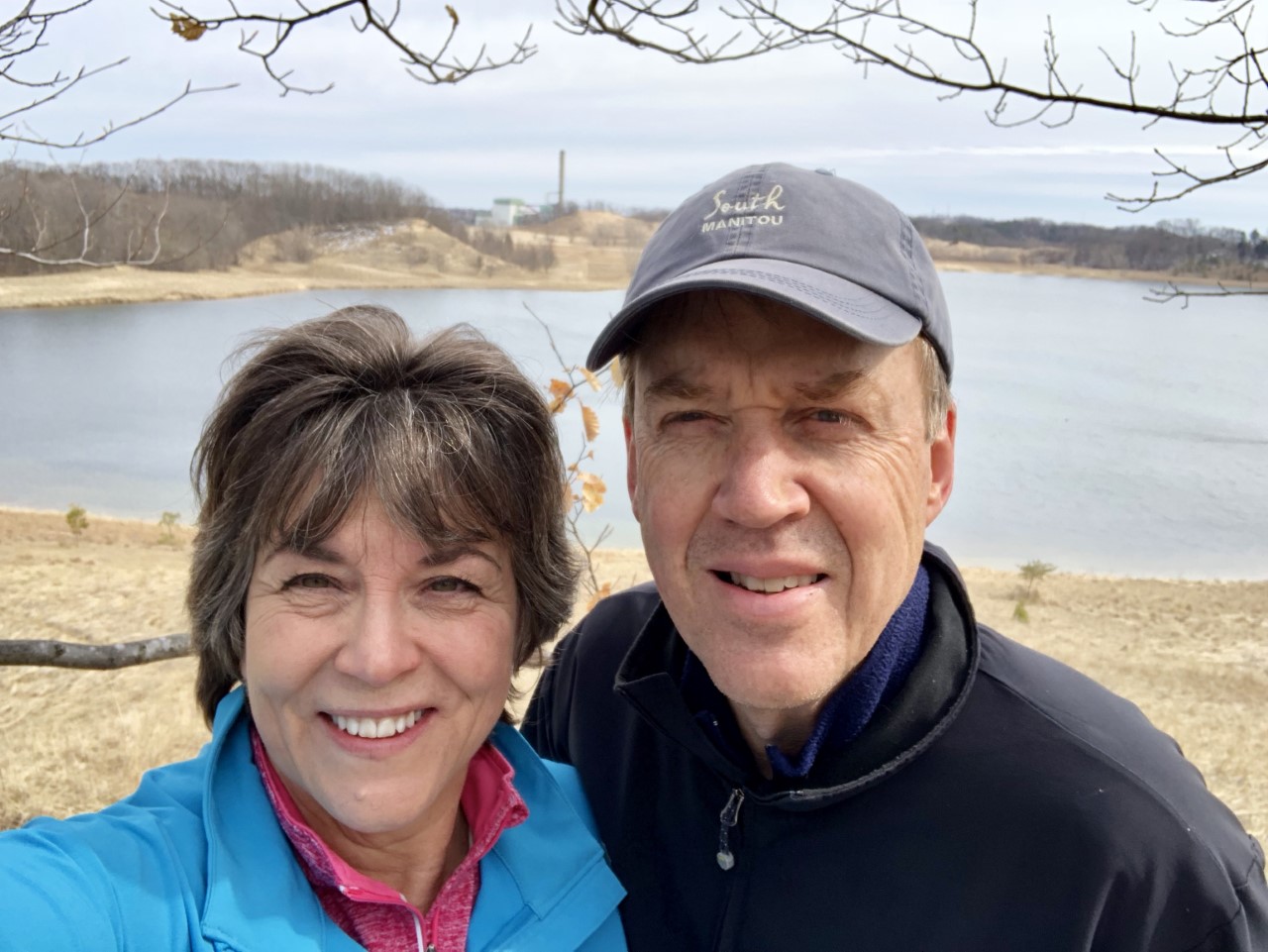 Land Protection Director April Scholtz retires
The Land Conservancy of West Michigan would not be the organization it is today without April Scholtz, who retired this spring after a nearly 30-year tenure as its Land Protection Director.   
April was the Land Conservancy's first and longest-serving employee. She was hired as LCWM's first Executive Director in 1993, helping the organization grow from a small group of volunteers to a full-time, professional staff. She stepped away from the Executive Director role when LCWM hired a second full-time professional, allowing her to focus on her passion for land protection.  
April's steadfast leadership as LCWM's Land Protection Director has been integral to the organization's success in protecting over 12,000 acres of natural land in West Michigan. Her work with individuals, families, local governments, and community organizations has facilitated the permanent protection of over 100 conservation easements, community conservation projects, and nature preserves. Her partnership work with local governments and the Michigan Natural Resources Trust Fund has resulted in significant protection of parks and natural areas throughout the Land Conservancy's eight-county service area. Along the way, hundreds have learned from April's depth of expertise, which she shared as a coworker, collaborator, and nature hike lead. 
"April has built an extraordinary legacy with her contributions to conservation in West Michigan. Our natural lands and the plants, animals, and waterways they support have a brighter future because of what she has helped the Land Conservancy achieve," said LCWM Executive Director Kim Karn.  
One of April's most notable career achievements was the protection of Saugatuck Harbor Natural Area, which brought together a wide array of partners to protect 173 acres on the Lake Michigan Shoreline. The landscape features an incredible diversity of habitats and is home to at least six rare plant and animal species, including the prairie warbler and Blanchard's cricket frog. Protecting it involved raising nearly $25 million dollars and coordinating the efforts of two land conservancies (the Land Conservancy of West Michigan and The Nature Conservancy) to garner the support of the local community, regional financial and community leaders, foundations, local groups, and political representatives. April's commitment and considerable skill were instrumental in making it all happen. 
More recently, April collaborated with Muskegon County to support its acquisition of Dune Harbor Park Muskegon County. April provided guidance as the County applied for funding from the Michigan Natural Resources Trust Fund and raised community support for the project. April also helped coordinate the donation of a 155-acre property in Newaygo County to the Land Conservancy for its transformation into a nature preserve. Named Upriver Nature Preserve, it will be the Land Conservancy's first property to allow public access to the scenic Pere Marquette River. 
Conservation does not happen without effective collaboration. These projects have been successful due in no small part to April's unique ability to foster long-lasting relationships with landowners and community partners.  
"We are so proud of what April has accomplished during her remarkable career at the Land Conservancy," said former LCWM Board Chair Bill Lawrence.  
The staff of the Land Conservancy will miss April dearly as a coworker. We wish her nothing but the best in her well-deserved retirement. We are grateful to have learned from her profound expertise and will do our best to carry forward her incredible legacy as we continue helping people protect, enjoy, and care for nature in West Michigan. Thank you for everything, April.