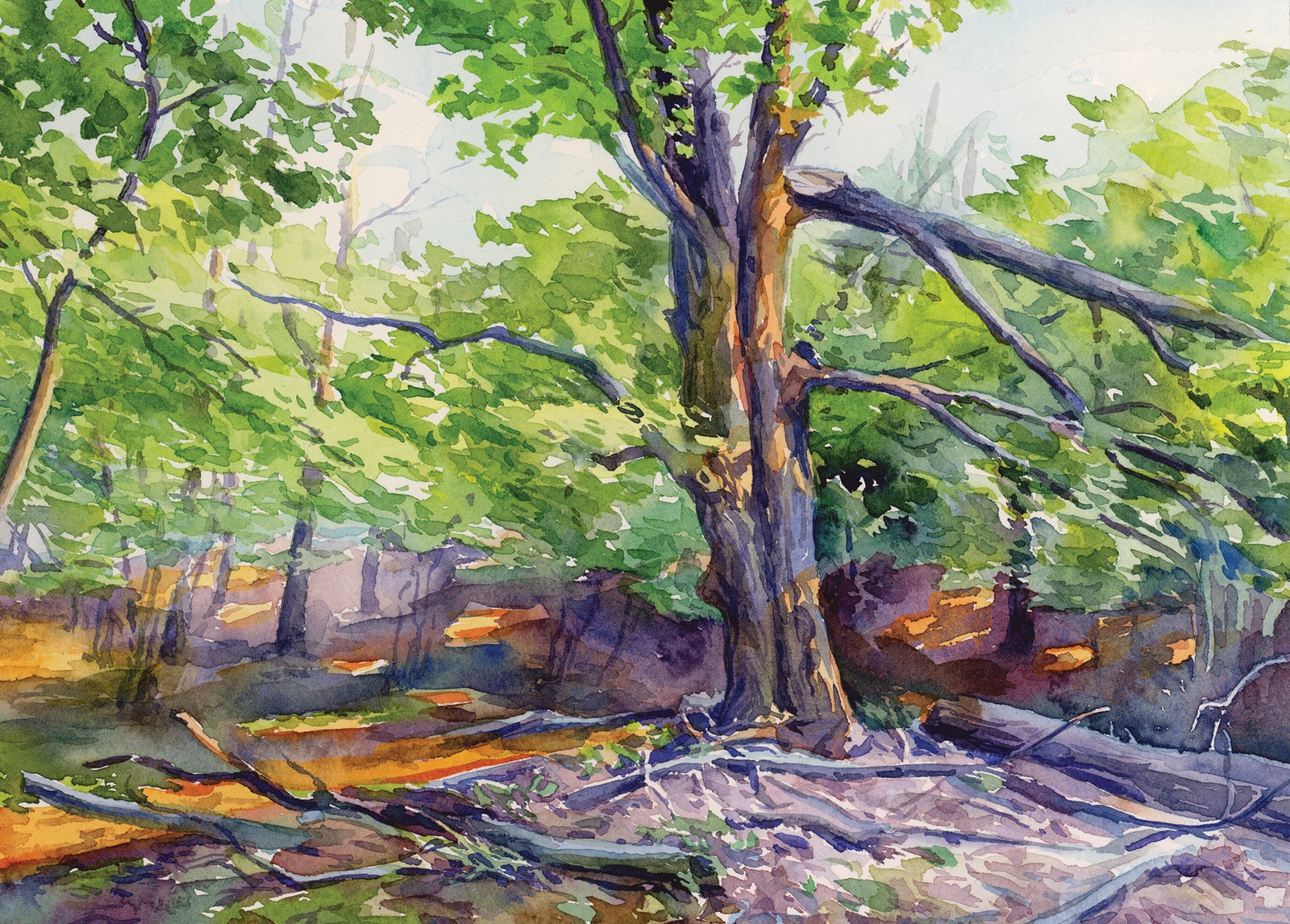 Interview with Steven Hughes
PRESERVED! Artist Interview Series
Steven Hughes' watercolor landscapes are stunningly intricate and detailed; the lakes and streams shimmer and sparkle, the rocks and trees seem to glow, the skies blend vibrant colors and dance with clouds. His portrait drawings are hauntingly beautiful, capturing both an expression and a wish. His pastel portraits are contemplative and powerfully minimal.
Some of his work is so impressionistic, it's abstract; other pieces are so photorealistic you might think they're photos until you look closer. Some subjects are real; others are fantastical. It's obvious he is accomplished in many mediums and styles.
"I have loved making things since I was a child," he says. "My family was really encouraging, and we often visited museums around the country."
Outside of museums, Steven found inspiration in the work of James Gurney, an accomplished plein air-artist and teacher. Many people will know Gurney as the creator of Dinotopia, a story about a shipwrecked father and son who discover a hidden island where dinosaurs and people live together in peace. It is easy to see the influence Gurney's Hugo Award winning illustrations had on Steven's work blending nature, people, and fantastical worlds together. In fact, the piece that Steven considers to be the most important work he's ever done is the epitome of these influences.
"An Occurrence at Dead River Falls brought a lot of my interests together in one piece: storytelling, the human figure, fantasy, wildlife and nature," he says. "It also represented a visible leap in my skills at the time."
When Steven is not inspired, he draws on his training as a commercial artist.
"While enjoyable for the most part, there are days where things are difficult, and the progress made is minimal," he says. "I show up and get to work. Making abstract shapes or lines and looking for a 'face in the clouds' can be a good way to loosen up the initial ideas and promote new ones. I make sure that at the end of the day, I can say something got done, even if it's the realization that a piece shouldn't go in a certain direction."
Most of Steven's work focuses on people. For his master's thesis at Kent State University, he worked with Reviving Baseball in Inner Cities, Major League Baseball, and the Boys and Girls Club. He created conceptual portraits that highlighted the personal narratives of contemporary African-American baseball players to inspire young children. In these pieces, the players are larger than life, radiating personality and hope, often complimented by images of where they grew up and where they went. 
Steven continues to use art to champion important causes and inspire others. Today, nature is an essential component of this work.
"The separation that much of the world has in their day-to-day lives from the natural environment can only be bridged by first-hand experience or impact," Steven says. "Art can prompt an emotional response that lends weight to the importance of a cause or subject. It can reveal something inherently more powerful about the natural world of which an ordinary observer may be unaware."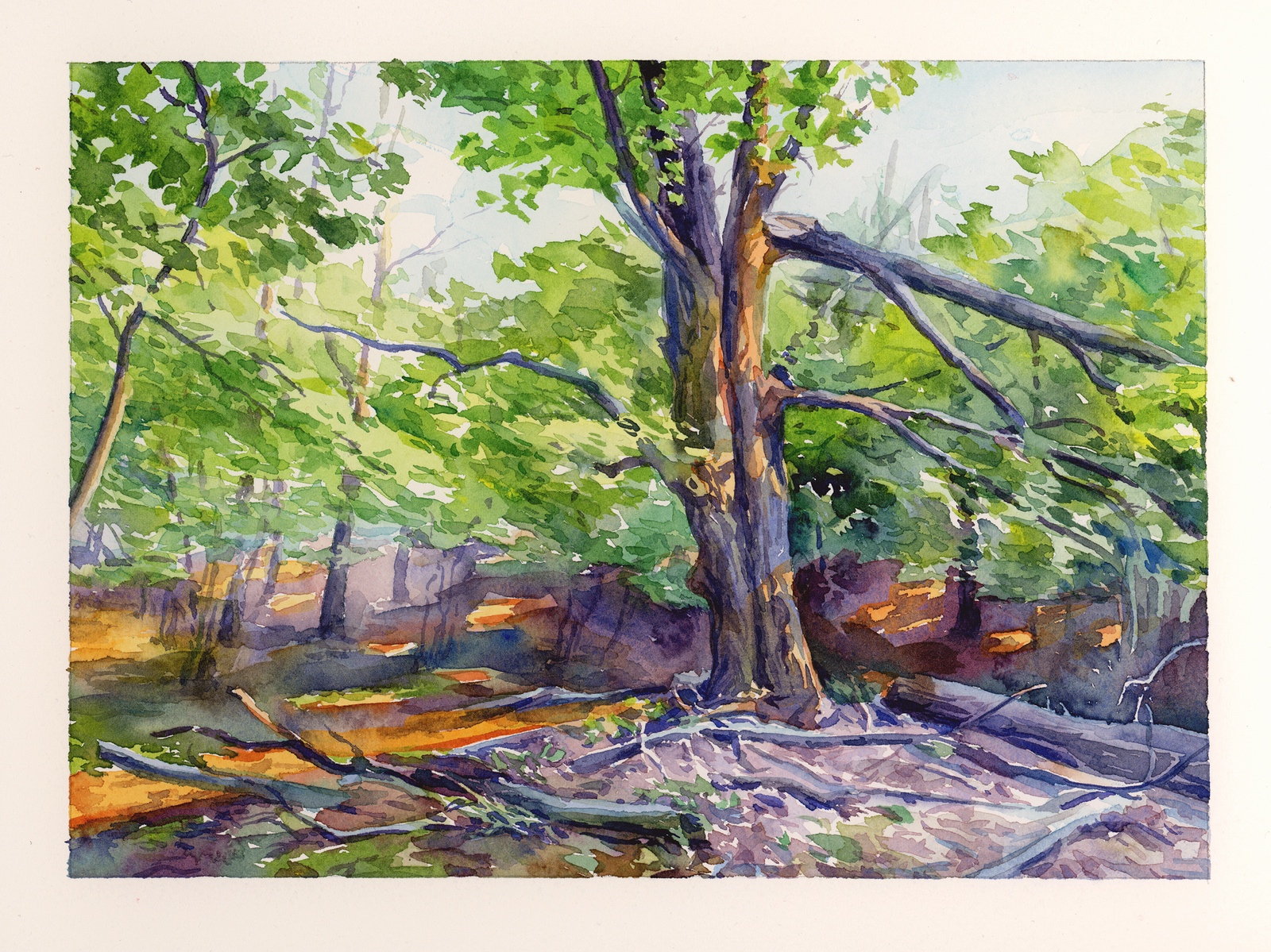 Part of the way Steven bridges the gap from people to nature, is by featuring people in nature.
"Nature often plays the role of a character or actor in my illustration work," he explains. "It's man vs. nature, or a mood and time of day that affects the main subject. So, while it may be a supporting role, nature shapes and informs the human character."
Steven is based in the Upper Peninsula, so the Preserved! program has introduced him to new places in West Michigan.
"The Preserved! program is an excellent motivator to get out and visit new parts of the state that I wasn't aware of," he says. "As an illustrator, I like to find places for my work to be of use, whether they can help solve a problem for an art director or lend a voice to an environmental cause."
His voice, already recognized by the Society of Illustrators, 3×3 Magazine, and Creative Quarterly, will be a welcome addition to the collection of Preserved! art.
"I want there to be beauty in the subjects that I choose," Steven says. "Highlighting the play of light and color in a scene, I hope to show the viewer the landscape is full of life and energy. It would be a loss for everyone, if it were to vanish."
---
Learn more about the Preserved! program and read other artist interviews here.