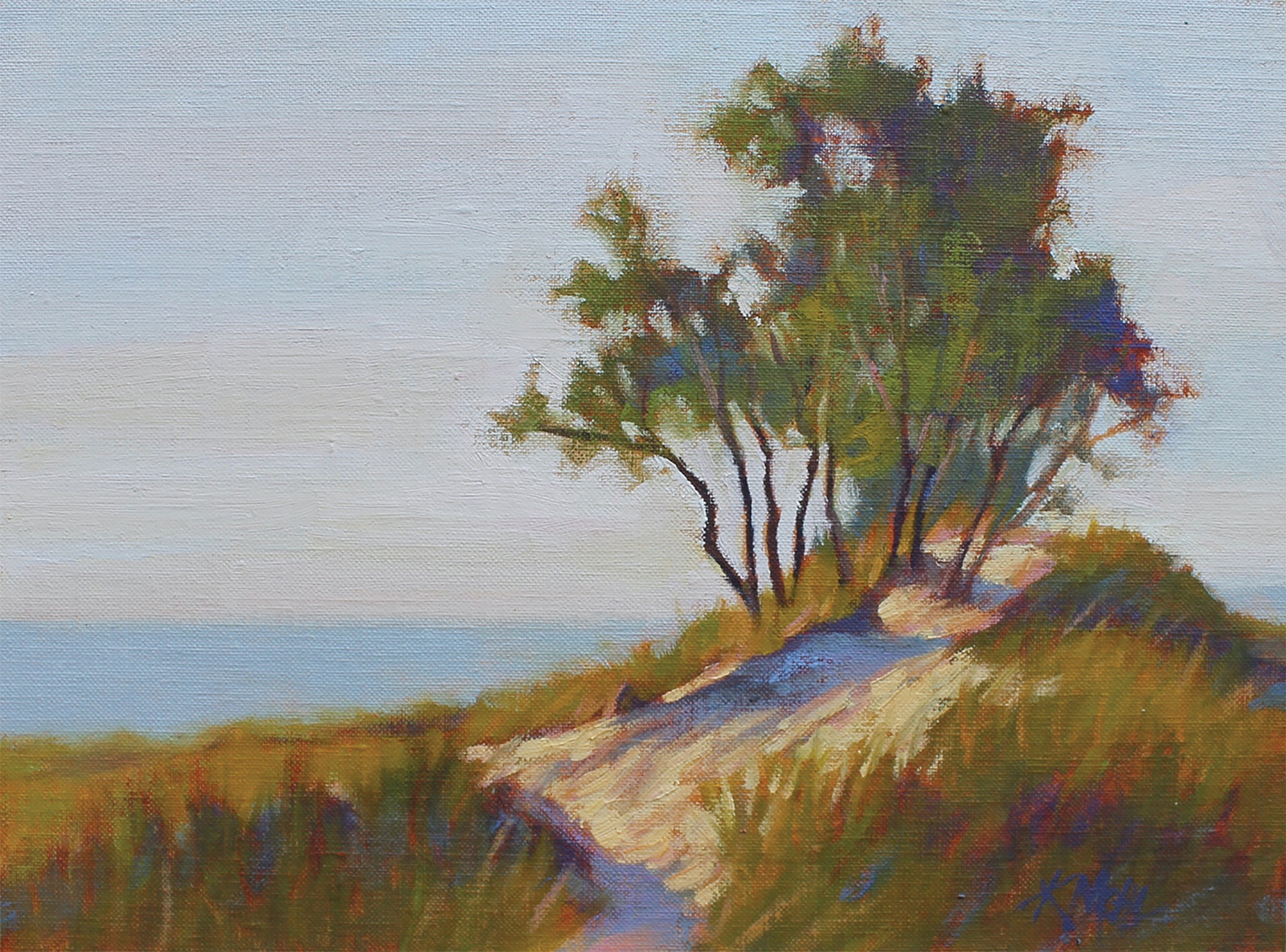 Interview with Kathy Mohl
PRESERVED! Artist Interview Series
Kathy Mohl is standing beneath a grove of black cherry trees at Maas Family Nature Preserve and the late afternoon sun filters through the fluttering leaves and gnarled branches. The piece she is working on is a plein-air painting, full of warm browns and golds depicting the winding trail before us.
"I've always been an artist," she tells me. "My dad was an engineer, and he would bring reams of paper home from work, and I would sit and draw. I would be so excited."
She still remembers her kindergarten teacher being so impressed that she was the first kid in the class to figure out you could blend colors—red and white, specifically—to make another color.
Yet, Kathy's natural inclination to art was inhibited in a big way: she had deplorable vision.
"In first grade, I flunked my vision test," she says. "I didn't tell my parents. Then, in second grade, I flunked my vision test again."
Eventually, the nuns outed her.
Based on the detail she's currently working into her painting, it is amazing to think, that at one time, she would not have been able to see half the items in her piece.
"I vividly remember getting glasses and coming out of the doctor's office and seeing, you know?" she continues. "I remember thinking, 'How am I going to draw each leaf?' I knew there were leaves, but I didn't know that you saw each one."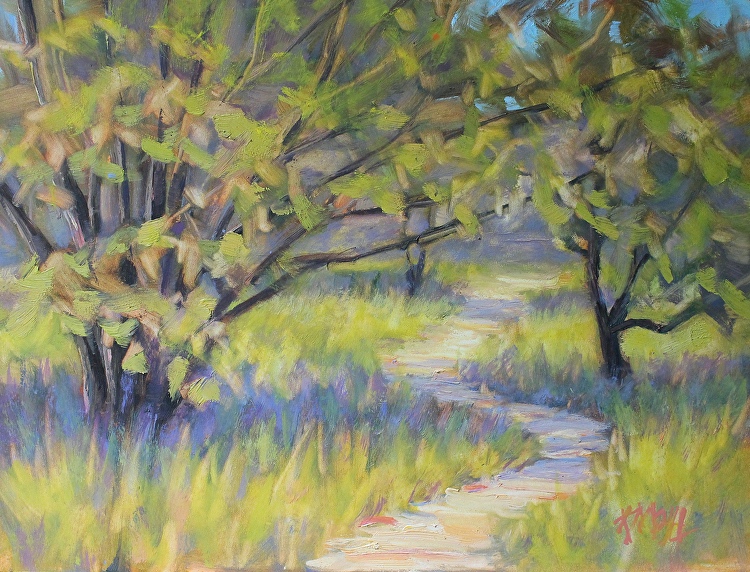 Kathy continued to pursue the artist's path, majoring in art at Oberlin College and receiving a degree in graphic design from Kent State University. She worked as a graphic designer, but eventually decided to focus on fine art. She's experienced with charcoal, watercolor, and pastel, but today her favorite medium is oil.
"It's so luscious," she says. "It's delicious looking to me. There's endless color possibilities."
Her first obsession was figurative work. It wasn't until she moved to Michigan that she fell in love with landscapes and landscape work.
"I took a workshop with Jim Markle—he's legendary here—and he was so inspiring," she says. "I remember that sparking something for me."
She carries an Easy L easel for plein-air work. While she requires little other tools, she discovered that plein-air art gave her more than just an image on which to base her work.
"Being out in nature is a whole different therapeutic effect that I didn't even realize," she says. "For me, plein-air painting is endless discovery."
It's also how she overcomes artist's block.
"There's so much being in nature teaches you," she asserts. "It's all right there. It helps you get out of your own way. I'll never not be inspired, and you just have to begin. Just get out and paint. Just get yourself in front of a canvas and don't worry about it."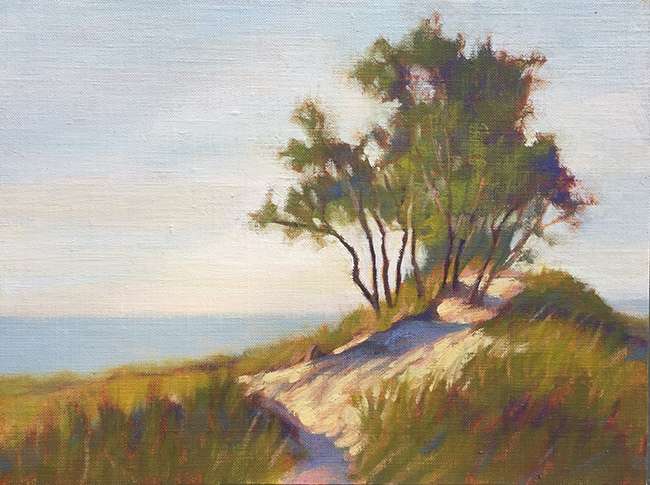 Inspiration comes easy to Kathy. When asked if there are any artists she really admires, her initial response is, "There's too many. I can't narrow it down!"
She mentions Stephen Duren—who also inspired fellow Preserved! artist, Michael Pfleghaar—and the impressionists.
"I loved DeGas when I was younger," she says, "especially because he did figures. He was a favorite of mine. I also like Kandinsky, which is very graphic and free."
Her passion for plein-air work made the Preserved! program a natural fit.
"As soon as I found out [the Land Conservancy] existed, I wanted to be connected to what you do," she says. To her, art is crucial for advancing the environmental causes important to her.
"It's so important," she emphasizes. "Art connects you to the sublime. It's not a guarantee that spaces like this will always be here. I'm here to draw attention to how important it is to have all this here."
---
Learn more about the Preserved! program and read other artist interviews here.